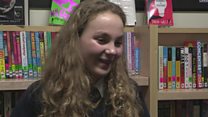 Fans excited for Philip Pullman's new books
16 February 2017 Last updated at 07:51 GMT
After 17 years author Philip Pullman has said that he'll be releasing a follow-up to the His Dark Materials books.
The new trilogy is called The Book of Dust and the first novel will come out in October.
Newsround caught up with some of the author's fans to hear why they love his books and what they're looking forward to in the new trilogy.