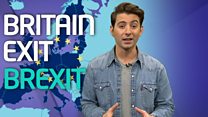 Brexit: What do the words mean?
17 January 2017 Last updated at 17:26 GMT
You may have heard lots of talk in the news about the UK and something called Brexit.
Prime Minister Theresa May has given an important speech on Tuesday morning about it.
There are a lot of new words being used, so Ricky's here to explain what they mean.