High tech tracking used to find missing tortoise Zuma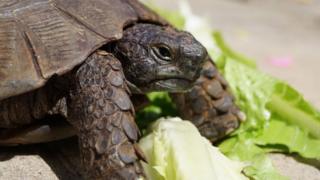 Zuma the tortoise took un unexpected journey and ended up in piles of rubbish.
The 90-year-old pet went missing when he wound up in a bin bag and was taken away.
The council tracked the bin lorry to the dump using GPS and used heat sensing cameras to find him.
They had to look through 1,000 bags of stinky rubbish but after a slow and smelly search they finally found him.
The lucky tortoise is now resting at home after being reunited with his owner Sarah Joiner.
After his smelly adventure Zuma is planning to take it slow and steady from now on.