Doctor Who: Pearl Mackie gets first day gift from Jenna Coleman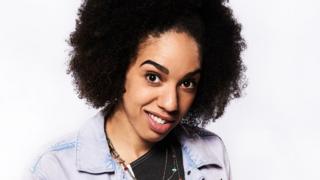 Imagine day one on the set of Doctor Who. It must be nerve-wracking stepping into the shoes of Jenna Coleman!
Well, Pearl Mackie, who plays the Doctor's new companion, had a special gift when the new series started filming on Monday.
She got a beautiful bouquet of flowers from Jenna Coleman, who played the Doctor's former companion Clara Oswald.
Pearl tweeted her thanks to Jenna for the gift, saying: "From one companion to another."
Jenna Coleman played the Doctor's companion Clara Oswald from 2012 until last year when she left the show.
Pearl Mackie will join Peter Capaldi's 12th Doctor on board the Tardis this series as new companion, Bill.