Optical illusions: Newsround's top 4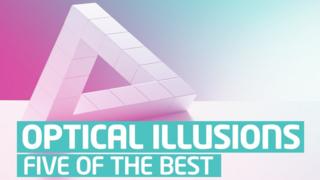 These mind-bending optical illusions have caused a stir online.
An optical illusion is the experience of seeing something which does not exist or is different from how it actually should be.
How many girls do you see?
This image which was posted to social media has left people baffled. It was posted with the caption, "same but different".
People find it really hard to tell how many girls are actually featured in the picture.
When asked about the photo, the person who shared it would only say that they have two daughters
Picture from Tiziana Vergari / instagram @tizzia
The train tracks
This video - of a father shuffling around his son's toy train tracks - has bewildered the internet. Can you figure out what's causing the optical illusion?
It was posted on Twitter on Wednesday evening, and been shared thousands of times since then.
The track on the bottom appears to be much longer than the one on the top, but when one is placed on top of the other, its clear that they are in fact the same size.
Video from Marc Blank-Settle
Is this cat going up or down?
This optical illusion picture of a cat had lots of people online, asking: is the cat moving up, or down the stairs?
Because of the way the light falls on the stairs, there aren't many other clues in the picture to help the brain decide whether it's going up or down.
But one clue could be in the moggy's tail.
That dress
This dress caused a sensation online in 2015. When looking at a photo of it, some people see it as gold and white, while others see it as blue and black.
Colours can appear different depending on what kind of light they're in. Something that's blue, for example, can look totally different in sunlight, than under streetlights at night-time.
But even when it's the same photograph, some people see blue, and others see white.