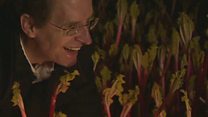 Rhubarb Triangle, West Yorkshire: What does rhubarb growing sound like?
4 February 2016 Last updated at 08:37 GMT
Wakefield is celebrating the arrival of the first rhubarb crop of the season with a special exhibition at the Hepworth gallery.
The BBC's David Sillito reports from the Rhubarb Triangle, where you can actually hear it grow...