Paris attacks: France holds service two weeks after attacks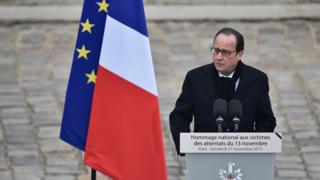 France has held a national memorial service for the people who died in the Paris attacks on 13 November.
Friday's service in central Paris, the capital city of France, brought together 1,000 people.
They included French President Francois Hollande, as well as people affected by the events.
One hundred and thirty people were killed and more than 350 people were injured in the attacks - the worst in recent French history.
A minute's silence was held and the names of all the victims read out.
Find out more about What's happening in Paris by clicking here. and if anything in the news upsets you you can find help and advice here. Advice if you're upset by the news