Wozniacki sparks row over women on Wimbledon show courts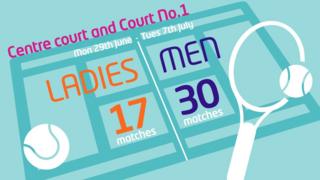 Tennis player Caroline Wozniacki has said women don't get as many chances as men to play on the big courts at Wimbledon.
The 24-year-old from Denmark made the comments in her press conference after she lost to Spain's Garbine Muguruza in the fourth round.
She said she'd "love" to play on a big court but women weren't given the opportunity often enough.
"You only get one women's match on Court One and Centre Court," she said.
"Most of last week it was only one women's match on Court Two as well. It's definitely different, that's all I can say.
"I think a lot of us women feel like we deserve to play on the big courts in front of a big crowd as well."
Newsround contacted the All England Club, who said they do not comment on individual cases.