Amazing pics as woodpecker flies with a weasel on its back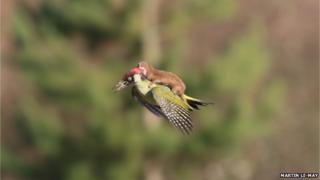 Amateur photographer Martin Le-May took this amazing pic of a weasel riding on the back of a green woodpecker as it flies through the air.
He took the photo at a park in Essex on Monday afternoon and they've since gone all over the internet.
Martin told the BBC that he was out walking with his wife Ann when he saw what was happening.
"I heard a distressed squawking noise and feared the worst," he said.
"I soon realised it was a woodpecker with some kind of small mammal on its back."
It's likely the weasel was attacking the bird - but Martin thinks he scared it off.
"I think we may have distracted the weasel as when the woodpecker landed, it managed to escape and the weasel ran into the grass.
"I'm so proud so many people are getting to see my image," he added.