Banksy 'Spy Booth' mural in Cheltenham gets listed protection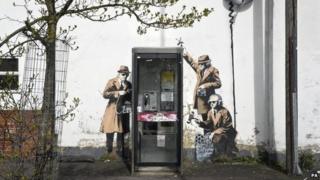 A Banksy mural painted on a Cheltenham house has been given listed protection, meaning it can't be changed or removed.
The "Spy Booth" artwork, showing three figures "snooping" on a telephone box, appeared in Hewlett Road last April.
The "unauthorised" mural was added to the Grade II* listed property without listed building consent, so could not be included in its listed status.
But Cheltenham Borough Council voted to grant the application.
The mural has sparked debate ever since it appeared.
Banksy artwork is rare - some people have tried to steal it and businesses and communities have been fighting over who owns it.
Now that it's listed, both the mural and the building's satellite dish will be protected - meaning it can't be changed or removed.