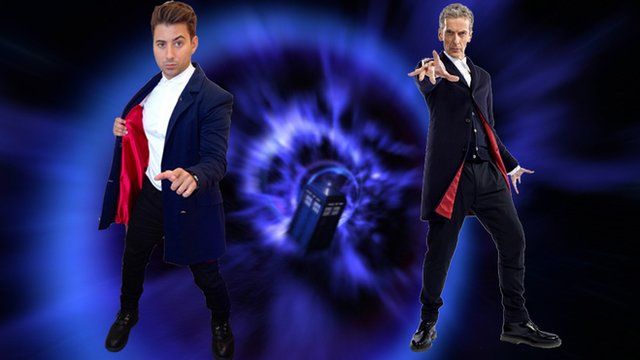 How to dress like the Doctor
20 August 2014 Last updated at 16:31 BST
Ricky and Hayley follow some top tips from Doctor Who's costume designer, to dress up like the twelfth Doctor and his companion, Clara.
Top tips for dressing like the new Doctor
Wear a white shirt buttoned up to the top, one of the trademarks of the new Doctor.
Find an old school blazer or long coat which is navy or black. Ask for some help to add a splash of red to the inside edges of the jacket which can be seen when you move.
Skinny black school trousers will match the dark coat.
Black boots or trainers add to the silhouette of the new Doctor.
Wear an old, long black jumper with small holes or a waistcoat to create some of the more casual looks the Doctor will be seen in.
Hair should be scruffy. The new Doctor does not think about his image but gets up and goes straight on an adventure.
Don't forget to pose!
Top tips for dressing like Clara
Wear bright colours to reflect Clara's strength of character.
Choose a skirt or dress from the high-street and wear with thick, black tights.
Choose a top with a 'Peter Pan' collar.
Include an old piece of jewellery in the outfit. Clara is often seen wearing an old watch.