Rare blue fin tuna fish found by kayakers off Cornwall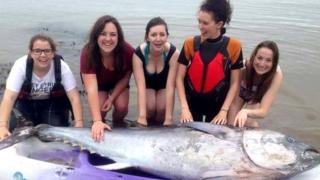 A rare tuna fish has been discovered by group of friends on holiday in Cornwall.
The group of kayakers found the 2 metre long bluefin tuna floating in the sea at Kingsand.
The species is worth hundreds of thousands of pounds, but it is critically endangered so it's illegal to sell or fish for them.
This bluefin has been taken to Exeter University to be tested.
Dr Matthew Witt, at the university said: "The specimen will be used for educational purposes as it will be of great interest to students learning about the biology of these inspiring fish."