How can England get through to the World Cup last 16?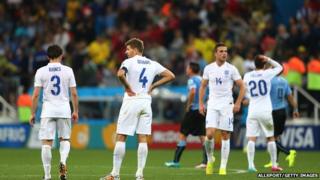 England may have lost against Uruguay but they still have a glimmer of hope of getting through to the knockout stages.
Roy Hodgson's men need to rely on the side that beat them in their first match: Italy.
For England to make it to the last sixteen, all of these things need to happen:
Italy beat Costa Rica - Friday 20 June, 5pm
Italy beat Uruguay - Tuesday 24 June, 5pm
England beat Costa Rica - Tuesday 24 June, 5pm
Goal difference
Even if this happens, all three teams, Uruguay, Costa Rica and England will be on three points. So who goes through will be decided on goal difference: England's goal difference would still need to be better than Uruguay and Costa Rica.
Going home?
If Italy draw or lose, against either Costa Rica or Uruguay, Steven Gerrard and his team-mates are out of the tournament.
History's not on England's side either: no team has ever lost their first two games at a World Cup and got through to the knockout stages.