Ronaldo smashes Champions League scoring record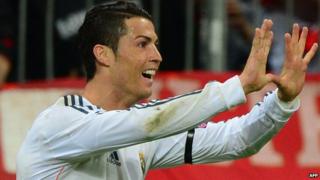 Cristiano Ronaldo has smashed the Champions League scoring record.
The Real Madrid player scored two goals on Tuesday night, taking his total to 16 goals in the Champions League this season.
He has overtaken the former record of 14 goals which was held by Lionel Messi (2011-12), Ruud van Nistelrooy (2002-03) and Jose Altafini (1962-63).
After beating Bayern Munich on Tuesday, Ronaldo still has the Champions League final to play on Saturday May 24th with the chance to increase his record.