Who will win the Premier League? And who's going down?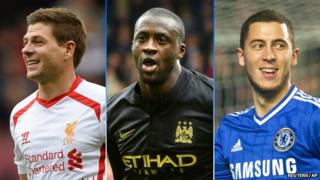 Who could win the biggest prize in English football? Chelsea, Liverpool and Manchester City are all in a three-way race to win the 2014 Premier League title, while there are six teams fighting to stay up.
Title contenders
At the top, it's now between Liverpool, Chelsea and Manchester City. With just two weeks left, which club stands the best chance of being crowned champions?
1st place: Liverpool
Liverpool are on 80 points, and need to win both their final games to stand a chance of winning the league. The leaders could still lose the title even if they win their remaining two matches: Manchester City have an extra game to play and have the best goal difference by far.
Winners rating: 7/10
2nd place: Chelsea
Chelsea sit in second place on 78 points, kept alive their hopes of winning the title by beating Liverpool at the weekend. But they're still two points behind the leaders with only two games to play. The London side need to win their final two games, and hope Liverpool and Man City lose, to stand a chance of winning.
Winners rating: 5/10
3rd place: Manchester City
Sitting in third place on 77 points, City have a crucial extra game to play, against struggling Aston Villa. If they win that, City would be level on points with Liverpool, but with their better goal difference the Manchester club would be favourites for the title.
In short, Man City look likely to win the league for the second time in three years.
Winners rating: 9/10
Six-way relegation tussle
At the bottom of the table, there are six teams still technically with a chance of going down: Cardiff, Norwich, Fulham, Sunderland, Aston Villa and West Bromwich Albion.
18th place: Norwich City
Norwich are on 32 points with two games left. The problem is, those last two matches are against London giants Chelsea and Arsenal, so things don't look good for the Canaries.
Championship rating: 8/10
19th place: Fulham
Second from bottom on 31 points, Fulham have a better last two games, playing Stoke City and Crystal Palace. But being in the bottom three of the table brings its own pressure and it's a big ask for the Craven Cottage side to turn around their fortunes.
Championship rating: 9/10
20th place: Cardiff City
Bottom-placed Cardiff City, on 30 points, will need to pull off a miracle: with only two games left, against Newcastle and Chelsea, it looks a certainty the Welsh side will go down.
Championship rating: 10/10
The other three teams at risk of relegation, Sunderland, Aston Villa and West Bromwich Albion, all have an extra game to play than the bottom three, and this could be very important for their fight to stay up.