Prince Harry to step down as Army helicopter pilot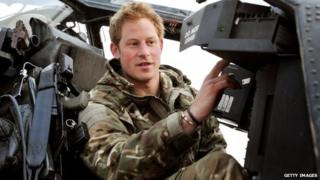 Prince Harry will be ending his role as a helicopter pilot to take up a job with the Army in London.
He will join the London District HQ, which plans ceremonial events including Trooping the Colour and state visits.
Prince Harry, also known as Captain Wales, has spent more than three years training to be and serving as an Apache helicopter pilot.
In this role he also served a tour in Afghanistan between September 2012 and January 2013.