Manchester United beat Swansea to avoid fourth defeat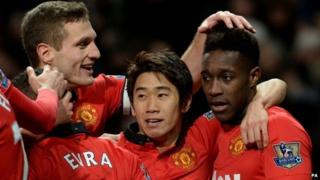 Manchester United have avoided an embarrassing fourth defeat in a row - something that last happened in 1961.
They beat Swansea 2-0 in the Premier League at Old Trafford on Saturday night.
Adnan Januzaj helped to create two goals for Antonio Valencia and Danny Welbeck after half time.
The pressure's been on for manager David Moyes after three straight losses to Sunderland, Swansea and Tottenham.
Before the game, Wayne Rooney called on fans to get behind the team.