Comments: Do footy kits change too often?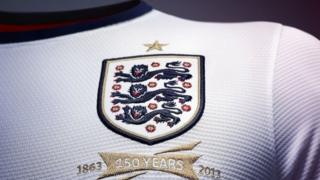 The England football team are to get a new kit in time for the World Cup.
Nike, who make the kits, will be bringing out a new white home shirt and a red away shirt next April or March.
Some people have criticised this decision as it will mean two new kits in less than a year.
Fans and parents have said this makes it very expensive to keep up with the latest kit.
A Nike spokeswoman said: 'These are unusual circumstances because of when we started the FA agreement and the need to recognise England's 150 anniversary this year. After the World Cup a normal kit cycle will resume. The home shirt will stay the same for two years and the away one for 18 months.'
We want to know what you think about this - is it too soon to bring out new kits? Do you think we should have a new design for the World Cup? Get in touch using the form below.
Send us your comments
I do not think it should change as it is a waste of money, plus who wants to waste money buying new shirts when they go to a match?
Amelie, England
I think that the fact that they keep changing shirts is ridiculous because they are just plain expensive and it's not fair for the fans who have to keep buying different kits.
Abdullah, London, England
It's up to them because if you want to keep the money coming in they will have to change it ever so often. Besides the world cup is only going to happen every four years so you may as well get a new kit for it.
Ellie, Retford, England
I think they should change the kits for the world cup as it is an important occasion and its a good way to celebrate!
Holly, Warwickshire, England
I don't think they need to change it too much because it's a bit of a waste of money and it is just football kit!
Freya, Berkshire, England
I think the national kit should be changed once every two seasons and once for the World Cup.
George, Hartlepool, England
I think it's OK to change, but I also think that people in England could get involve by designing the kit! By doing this we can have fun and tell people how easy it is to design a kit!
Farsya, Birmingham, England
I think they do change the kit too often and its makes me stressed over changing my football kit.
Alex, Hampshire, England
I think that kits should be changed once in a while but not 3 times in the space of a whole year. Many parents have children who are very enthusiastic about football and want to have the latest kit but that would be very expensive for parents buying them every time they change.
Muna, London, England
I think football kits should be changed once a season or else players will not get the most of the kit.
Ronnie, Felixtowe, England
I think that it should be changed for the World Cup because it is an important occasion.
Lily, Berkshire, England
I think football kits change too often and every time your team changes their kit you have to buy a new one. They are also quite expensive.
Martha, Northampton, England
Yes they do change too often and they are quite expensive if you want to buy them and they mostly change after every few games or every season.
Megan, England
I think they should change the kit each year. For example: one kit for 2013. A new kit for 2014 etc.
Sofia, Surrey, England