Cameron: UK has new evidence for Syria chemical attack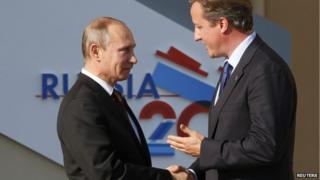 The UK has fresh evidence of the use of chemical weapons in Syria, David Cameron has told the BBC. Mr Cameron is at a big meeting for world leaders in Russia, called the G20 summit.
"We have just been looking at some samples taken from Damascus in the Porton Down laboratory in Britain which further shows the use of chemical weapons in that Damascus suburb," he told BBC correspondent Nick Robinson.
Hundreds of people are reported to have been killed in the attack, just outside the Syrian capital Damascus.
The government of Syrian President Bashar al-Assad has denied involvement in the attack.
All week world leaders have debated whether or not to take military action in Syria after the government there was accused of using chemical weapons against its own people.
US President Barack Obama has said previously that if chemical weapons were used in Syria, it would force the rest of the world to take action. He has since been backed by an important body, the US Senate.
Disagreement
But not everyone agrees that Britain should get involved and last week David Cameron lost a vote on taking military action there.
He said today the UK would lead calls for more action on aid for refugees and push for fresh peace talks.
Two million Syrians have already fled their homes to seek safety in neighbouring countries.
Last week we asked BBC Security Correspondent Frank Gardner to answer Newsround viewers' questions about Syria.