Storms cause flooding in Nottinghamshire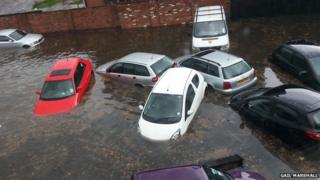 Heavy storms in Nottinghamshire caused severe flooding on Tuesday night.
Many peoples homes were damaged by the sudden rain, which fell in the space of 30 minutes.
The floods also caused travel chaos when some cars were swept away by the floods.
The local supermarket was affected by the bad weather too, when water flooded the shop floors.
The BBC weather report said that on Tuesday, Nottinghamshire was the wettest place in the UK.