Best Song Ever: One Direction Zayn's character!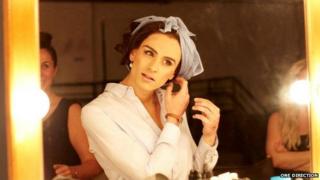 Zayn from One Direction looks unrecognisable dressed up as a woman in the latest teaser image for new single Best Song Ever!
The group tweeted the pic with the question: "Who recognises this very attractive lady...? 1DHQ x."
Best Song Ever was played on radio for the first time on Friday.
Niall tweeted: "Over the moon that you guys have been loving Best Song Ever - can't wait until you see the full video. LOVED filming it ;)."
Check out the other image reveals of the week:
Niall was transformed into a balding businessman on Tuesday.
Liam posed in sports gear on Wednesday.
Harry rocked out in glasses and a waistcoat on Thursday.