Chat: Who should replace Jessie J as Voice coach?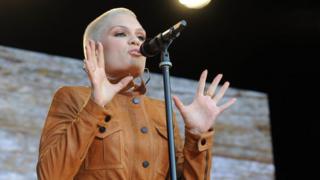 Jessie J has announced she has not signed up for the next series of the The Voice.
She's been on the show since it started in 2011 with fellow coaches Sir Tom Jones, will i am and Danny O'Donoghue .
She said she has enjoyed working on the show but wants to concentrate on her album and touring.
We asked you who you think should replace her and why?
Here are some of your ideas.
Comments
"I think Demi Lovato or Nicole Sherzinger because they are great singers and Nicole has already been on the X Factor!"
Isabel, Bognor Regis, England
"I would like Tulisa because she is great with music and everyone loves her, also she would get along with the other judges."
Amelia, England
"I think Emeli Sande is perfect as she has a beautiful voice and is very honest so would be an excellent judge."
Lyla, London, England
"I think that Adele and Cher Lloyd would make amazing judges on The Voice. It won't be the same without Jessie J though."
Esii, Buckinghamshire, England
"I think Niall from One Direction should be the next coach on The Voice as he has a a very good taste in music."
Ikram, London, England
"I will be sad to see her go but I will be happy as it gives other singers a chance to coach ordinary people. I think Cheryl should replace Jessie J."
Lucy, Birmingham, England
"I think that Prince Charles should judge The Voice."
Ben, Buxton, England
"I think Selena Gomez should be the new Voice judge because she is an amazing singer and she would be a great coach."
Indigo, Newcastle, England
"I think either Adele could replace her or Taylor Swift."
Patience, Kent, England
"I think it should be Dizzee Rascal because he is a very good singer/rapper and he could teach the people on his team how to sing/rap like he does."
Lewis, Swansea, Wales
"I think it should be Emeli Sande should be the next presenter because she has a good voice, but if she is not then it should be a girl because otherwise it would just be all boys."
Katy, Brisbane, Australia
"I think Katy Perry would be great to take over from Jessie J. They are both amazing and great at inspiring people so Katy Perry would be fab."
Chloe, Staffordshire, England
"I think it should be Cheryl Cole. She has the experience, talent and she is just as funny as Jessie."
Savira, Luton, England
"I think Rihanna should be replace Jessie J because she is an amazing singer and would be a brilliant judge."
Jessica, Liverpool, England
"I think Adele should replace Jessie because she is a brilliant singer."
Joe, Desborough, England
"I think Little Mix should replace Jessie J because they sing brilliant songs."
Jessie, Sale, England
"I think that Labyrinth should be a judge on the voice."
Malcolm, London, England
"Any member of 1D."
Annabelle, Dumfries, Scotland