London Olympic park reopens to visitors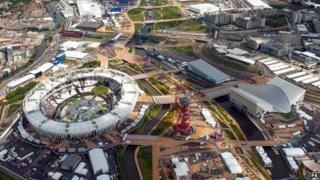 The London Olympic Park has reopened to visitors, starting this Easter weekend.
So far, 20,000 tickets have been sold to people wanting to see the site in east London, where the Games took place last summer.
Tours in the Stratford park will be running every weekend and during the summer holidays.
Visitors will have to wear hard-hats as much of the site is still being rebuilt.
The stadium, velodrome and Copper Box venues are still in the park, as well as the huge Orbital tower.
But the hockey and basketball arenas and the world's biggest McDonald's have been taken down.
When the whole park is finished it will reopen as the Queen Elizabeth Olympic Park.