Chat: How are you celebrating Diwali?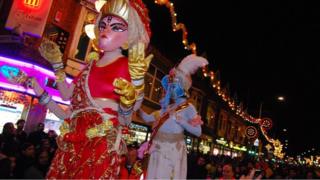 Diwali, the Hindu festival of lights, is the most popular of all the festivals from South Asia. It's also celebrated by Jains and Sikhs.
In Britain, as in India, the festival is a time to thoroughly spring-clean your home, wear new clothes and most importantly, decorate buildings with fancy lights.
The festival lasts for five days. Because of the lights, fireworks and sweets involved, it's a big favourite with children.
Guide to the festival of Diwali
How are you celebrating?
We'd really like to know how you're celebrating Diwali? Have you made any decorations? What does Diwali mean to you?
Your comments
"I am making sweets with all of my family to celebrate Diwali."
Kriya, Syston, England
"I love the idea and it looks so much fun!"
Emily, Westhill, Scotland
"My school has a Diwali Festival every year. Even people that don't go to the school can come! We can also get Henna tattoos!!!"
Matilda, London, England
"I am going to the gurdwara [Sikh place of worship] to bless god. I think I'm going to wear my special clothes too and at night I'm going to do the candles because Diwali is the festival of lights."
Heeran, England
"I'm lighting candles in my home. "
Olivia, London
If you send us a comment, it may be published on the Newsround website, and some comments may be used in our TV bulletins. We'll use your first name and your home town to show that it's your comment; your personal details won't be used for anything else.