Paralympics: GB gold medal winners of London 2012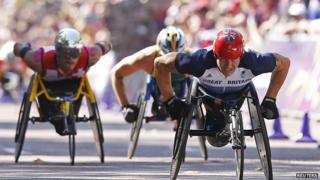 ParalympicsGB set a target of winning 103 medals in the 2012 games. They've smashed that target by winning 120 - made up of 43 bronze, 43 silver, and 34 gold.
Here's the list of every Paralympics GB gold medal.
SUNDAY 9 SEPTEMBER
34. DAVID WEIR - MEN'S T54 MARATHON
Getting his fourth gold of the games, David Weir made it look easy as he raced through the streets of Central London. Crowds roared him on and afterwards he said the games had been "amazing the whole way through".
SATURDAY 8 SEPTEMBER
33. DAVID STONE - CYCLING MIXED T1-T2 ROAD RACE
Stone held off Italy's Giorgio Farroni to take the chequered flag, with Czech David Vondracek finishing third. It was Stone's third Paralympic gold of his career after winning two in Beijing, as well as a mixed time-trial bronze in London.
FRIDAY 7 SEPTEMBER
32. JOSIE PEARSON
ATHLETICS - WOMEN'S DISCUS F51/52/53
Josie broke the world record not once but three times to win gold. Her longest throw was a mighty 6.58m beating the previous world record of 6.13m.
But it's not just the discus that takes her fancy, she represented Great Britain at Wheelchair Rugby in the last Paralympic games at Beijing in 2008.
THURSDAY 6 SEPTEMBER
31. JONNIE PEACOCK
ATHLETICS - 100M T44
Teenage sprinter Jonnie Peacock powered past his hero Oscar Pistorius to grab gold in a hugely tense 100m T44 final.
It was the event everyone was talking about and Peacock delivered - with a new Paralympic record of 10.90 seconds.
30. DAVID WEIR
ATHLETICS - 800M T54
Wheelchair racing superstar David Weir made it three golds out of three at London 2012.
The 'Weirwolf' was roared home by the crowd in the Olympic Stadium as he held off tough competition to win the 800m.
He could make it four golds in Sunday's marathon!
29. HANNAH COCKROFT
ATHLETICS - 200M T34
'Hurricane' Hannah Cockroft lived up to her nickname when she destroyed her rivals in the 200m T34 wheelchair sprint.
She set a new Paralympic record of 31.90 seconds to win her second gold of London 2012, following her 100m victory.
28. JOSEF CRAIG
SWIMMING - 400M FREESTYLE S7
British schoolboy Josef Craig became a Paralympic champion at the age of 15!
He broke the world record in his heat and then AGAIN in the final! The teenager, who has cerebral palsy, said it was the happiest day of his life.
27. SARAH STOREY
CYCLING - WOMEN'S C4/5 INDIVIDUAL ROAD RACE
The 34-year-old cyclist has now won four gold medals at London 2012. She's now got 11 golds in her collection, the same amount as British record holders Dame Tanni Grey-Thompson and David Roberts.
26. HELENA LUCAS
SAILING - 2.4MR CLASS
Lucas has won ParalympicsGB's first ever sailing gold. She was the only woman in the competition and finished nine points ahead of Germany's Heiko Kroger.
WEDNESDAY 5 SEPTEMBER
25. OLIVER HYND
SWIMMING - SM8 200M INDIVIDUAL MEDLEY
Winning Britain's sixth swimming gold, 17-year-old Hynd was more than four seconds behind France's Charles Rozoy after the first 50m, but overtook him, and took gold!
24. SARAH STOREY
CYCLING - WOMEN'S ROAD TIME TRIAL C5
Storey has won her third gold of London 2012. She stormed to the finish line in the time trial, finishing nearly two minutes ahead of the rest of the athletes.
TUESDAY 4 SEPTEMBER
23. DAVID WEIR
ATHLETICS - MEN'S 1500m T54
Weir has scooped up his second gold of the Games. He managed to speed his way to victory on the track, defending the 1500m Paralympic title he won in Beijing.
22. SOPHIE CHRISTIANSEN
EQUESTRIAN - INDIVIDUAL FREESTYLE Grade Ia
Sophie Christiansen won her third gold medal at the Games to take Great Britain to their best ever Paralympic equestrian medal haul of 11.
21. HEATHER FREDERIKSEN
SWIMMING - 100M BACKSTROKE S8
Frederiksen retained the title she already held from the 2008 Beijing Paralympics.
20. DANIELLE BROWN
ARCHERY - WOMEN'S INDIVIDUAL COMPOUND FINAL
In an all-British final, Brown beat her team-mate Mel Clarke. Clarke could have won if she'd got a 10 with her final arrow but she could only manage a seven, allowing World and European champion Brown to claim victory.
19. MICKEY BUSHELL
ATHLETICS - MEN'S 100m T53
Mickey crossed the finishing line with his competitors far behind. Mickey's dad was brought to tears by his son's win.
"Despite the nerves, once out on track he said he knew it was just time to get on with it," he said.
MONDAY 3 SEPTEMBER
18. ELLIE SIMMONDS
SWIMMING - WOMEN'S INDIVIDUAL MEDLEY 200M SM6
Taking her second gold of a possible four, she showed her delight by saying: "To do another personal best, I am chuffed.... it is amazing to do this in front of this home crowd."
17. NATASHA BAKER
EQUESTRIAN - INDIVIDUAL FREESTYLE TEST GRADE II
Natasha Baker has won her second gold of the Games. She and her horse Cabral rode to a Paralympic record score of 82.8% in the freestyle test, two days after winning the championship test.
SUNDAY 2 SEPTEMBER
16. DAVID WEIR
ATHLETICS - T54 5,000M
Wheelchair racer David Weir rounded off a golden Sunday for ParalympicsGB when he stormed to victory in the T54 5,000m. It's his seventh Paralympic medal. He won two golds at the last Paralympics in Beijing - in 800m and 1,500m.
15. JESSICA-JANE APPLEGATE
SWIMMING - 200M FREESTYLE S14
Sixteen-year-old Jessica-Jane Applegate, who has Asperger's syndrome, set a new Paralympic record of 2:12.63 to take gold in the pool.
14. LEE PEARSON, SOPHIE WELLS, DEBORAH CRIDDLE, SOPHIE CHRISTIANSEN
EQUESTRIAN - MIXED TEAM CHAMPIONSHIP
The foursome won Great Britain's fifth team title in a row. GB are unbeaten in the equestrian team event ever since it was introduced to the Paralympics in 1996. It gave Lee Pearson his 10th Paralympic gold medal!
13. SOPHIE CHRISTIANSEN
EQUESTRIAN - INDIVIDUAL DRESSAGE
Sophie Christiansen was first out in the individual dressage. She and her horse Janeiro 6 scored a whopping 82.75% - and no one came close to challenging that!
12. ANTHONY KAPPES AND CRAIG MACLEAN (PILOT)
CYCLING - MEN'S INDIVIDUAL B SPRINT
Partially-sighted Anthony Kappes and his pilot Craig MacLean beat their GB teammates Neil Fachie and pilot Barney Storey to first place in the tandem sprint. The good news came a day after they disappointingly failed to finish in the 1km time trial.
11. ALED DAVIES
ATHLETICS - DISCUS F42
Welshman Aled Davies won gold with a massive throw of 46.14m, a new British record, in the discus F42 final. It's his second medal having won a bronze in the shot put.
10. DAVID SMITH, JAMES ROE, NAOMI RICHES, PAM RELPH AND LILY VAN DEN BROECKE (COX)
ROWING - MIXED COXED FOUR
The British team beat their rivals Germany at Eton Dorney in a closely fought race to take GB's first rowing gold. It was good news after two fourth-placed finishes for other GB boats.
SATURDAY 1 SEPTEMBER
9. ELLIE SIMMONDS
SWIMMING - 400M FREESTYLE S6
Ellie Simmonds defended her 400m title in style by setting a new world record - finishing a whole second ahead of her US rival Victoria Arlen.
8. SARAH STOREY
CYCLING - INDIVIDUAL C4-5 500M TIME TRIAL
Sarah Storey won her second gold of the Games with a time almost a second quicker than her nearest rival.
7. NATASHA BAKER
EQUESTRIAN - INDIVIDUAL CHAMPIONSHIP TEST GRADE II
Natasha Baker won Great Britain's first equestrian gold medal of the 2012 Paralympic Games.
6. RICHARD WHITEHEAD
ATHLETICS - MEN'S 200M T42
Double amputee Richard Whitehead set a new world record when he won gold in the 200m in the T42 category. There were almost no seats left in Olympic Stadium when he triumphed in front of a crowd of 80,000 people.
5. NEIL FACHIE AND BARNEY STOREY (PILOT)
CYCLING - MEN'S B TANDEM 1KM TIME TRIAL
Partially-sighted Neil Fachie and his guide Barney Storey took gold in world record time for GB in the tandem 1km time trial. Barney matched his wife Sarah Storey's gold in the Velodrome!
FRIDAY 31 AUGUST
4. HANNAH COCKROFT
ATHLETICS - WOMEN'S 100M T34
Wheelchair racer 'Hurricane' Hannah Cockroft took the first athletics gold medal for Great Britain. She also holds the honour of being the first person to set a world record in the Olympic Stadium, which she achieved at a test event in May.
She adds the Paralympic medal to her title of world champion and world record holder in this event.
3. MARK COLBOURNE
CYCLING - MEN'S INDIVIDUAL C1 PURSUIT
Mark Colbourne took gold in the 3km men's pursuit and set a new world record.
He was also GB's first medallist of the Paralympic Games when he won a silver medal on Thursday.
THURSDAY 30 AUGUST
2. JONATHAN FOX
SWIMMING - MEN'S 100M BACKSTROKE S7
Jonathan Fox had already stormed to the finish line in his qualifying heat and set a new world record time of 1:09.86.
He didn't beat that in the final but was still speedy enough to come first. Gold number two for ParalympicsGB!
1. SARAH STOREY
CYCLING - WOMEN'S INDIVIDUAL C5 PURSUIT
Sarah Storey has managed to keep her Paralympic title from Beijing in the women's individual C5 pursuit.
She won after beating Poland's Anna Harkowska in the final, ParalympicsGB's first gold of the Games!