Updates of Jessica Ennis in action on athletics day 1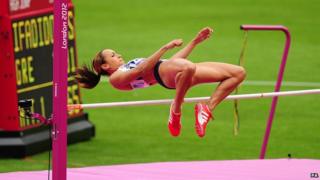 We're bringing you updates as all the action happens on the first day of the athletics....including British star Jessica Ennis in the Heptathlon...the latest updates will appear below.
2.25pm - That's the end of the morning session, but Jessica will be back with two more events in the evening.
2.10pm - Nope, not this time, but Katarina Johnson-Thompson's 1.89m is the highest she's ever jumped and might leave her in the top 10 in the heptahlon.
1.56pm - Oh no... Johnson-Thompson's missed her first attempt. And her second...one more try.
1.55pm - 1.86m was Ennis' highest jump then, which is a bit average. Luckily her 100m hurdles were brilliant this morning to make up for it. But how high can Johnson-Thompson get!?
1.50pm - That's as far as Jess is going to get though, she's not cleared 1.89....Katarina Johnson-Thompson has though!
1.45pm - Let's not forget about Katarina Johnson-Thompson though. She's also cleared 1.86m.
1.44pm - ahhhh no need to panic. Jess steps it up with her next effort and flies over 1.86m. The crowd go wild and the golden girl is back on track.
1.40pm Oh dear. Another failed attempt means Jess Ennis has only one chance left at 1.86m...experts think that she should be jumping higher...her best ever height is 1.95.
1.20pm - Jess Ennis and Katarina Johnson-Thompson both jump over 1.83m.
12:50pm - Oooooh, Jess Ennis just jumps over 1.80m...she missed her first chance, but they have three goes at each height.
12:30pm - Jess Ennis isn't the only Brit in the women's heptathlon - Katarina Johnson-Thompson is also in there. She's not expected to compete for gold as she's only 19, but she looks good in the high jump and has cleared her first 3 attempts. Keep an eye out for her.
12.25pm - Britain's Shana Cox is also through to the semi finals of the women's 400m joining Christine Ohuruogu. It'll be her first Olympic semi final.
12.20pm - Jess Ennis clears 1.77m in the high jump. Looking comfortable.
12.16pm - EASY! And Christine cruises it...that's her through to the semi final.
12.15pm - Christine Ohuruogu is the Olympic champion in the 400m..she's up next in her first heat of London 2012.
12:10pm - Young Jack Green also joins Dai Greene in the semi final of the 400m hurdles. Well done Jack - it's his first Olympics.
12:05pm - 1.74m was the height of Jessica Ennis' first jump...and she made it look easy.
11.55am - Jess steps up for her first attempt - and clears it easily. Early days though in this one.
11:50am - Jess Ennis is back in action in the heptathlon - it's time for the high jump.
11:45am - So Dai Greene's schedule for the rest of the games is the semi final tomorrow, and hopefully the 400m hurdles final on Monday...but after that performance in the heats it's looking good for the World and Commonwealth champion.
11:32am - EASY! Dai Greene walks it! Not literally but it was very easy and he wins his heat easily. That's him through to the next round tomorrow.
11:30am - Dai Greene up next to try and qualify for the next round of the men's 400m hurdles. They're off.
11am - Incredible performance from Ennis - no one competing in the women's heptathlon has ever run the 100m quicker than that. Pressure? What pressure? It means that Jess takes the lead from the first event.
10.45am - First up for Jess, the 100m hurdles and she storms it! Winning the race and setting a new British record! It's the perfect start of the British star.
PREVIEW
It's day one in the Olympic stadium at London 2012...and it all kicks off with one of the jewels in Team GB's crown...
Jessica Ennis is one of the big stars for Great Britain at London 2012.
She's one of the best heptathlete in the world and one of the favourites for gold - but can she handle the pressure of the nation expecting her to win?
There are 7 events in the heptathlon - 4 on Friday and the last 3 on Saturday.
Also in action, Dai Greene runs in the first round of the 400m hurdles, and Christine Ohurugou does the same in the women's 400m...there's no medals up for grabs though.
FRIDAY'S EVENTS
At 10am she starts off in the 100m hurdles
The high jump should be at around 11:15am
Shot put happens at 7pm
She'll finish off with the 200m heats from 8:45pm
Then on Saturday she'll compete in the long jump, javelin and 800m.