Europe's oldest intact book bought for £9 million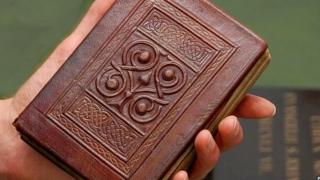 The St Cuthbert Gospel, the oldest book to survive intact in Europe, has been bought by the British Library.
The Library - in London - raised nine million pounds to buy it.
The Gospel is in amazing condition for a book that is over 1,300 years old.
It was found in a saint's coffin in Durham, in the North East of England, more than 900 years ago.
The St Cuthbert Gospel is currently on display in the British Library.
It will be shared with Durham Cathedral and will go on show in the city next year.
The Dean of Durham Cathedral said, "It is the best possible news to know that the Cuthbert Gospel has been saved for the nation. For the people of Durham and North East England, this is a most treasured book."