Christmas traditions around the world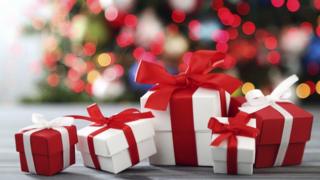 We're used to turkey, mince pies and presents on 25 December in the UK, but Christmas can be a very different affair in other countries around the world.
Newsround checks out festive traditions from all over the globe.
Netherlands
Christmas comes early in the Netherlands, as St Nicholas (called Sinterklaas) arrives by boat on the last Saturday in November with his helper Zwarte Piet (Black Pete), who is said to punish bad children. Sinterklaas doesn't live at the North Pole like Santa though - he comes from Spain!
Farmers also blow long horns at sunset to announce the coming of Christmas.
Greece
Fresh basil is wrapped around a wooden cross, and used to sprinkle water around the house to keep away the Killantzaroi - mischievous goblins that are believed.
Some people also keep a fire lit to stop them making mischief, like turning milk sour, or riding on people's backs.
Gifts are given on 1 January.
Poland
Kids get gifts on 6 December, which is St Nicholas' day.
Families gather for a traditional Christmas Eve meal, which has 12 courses, two of which are carp (a kind of fish).
Polish tradition says animals can talk and people can tell the future on Christmas Eve.
Norway
Norwegian children have two creatures to look out for. First is the Julebukk, a goat-like gnome who brings presents.
Then there is Jul Nisse, who guards farm animals and plays tricks on children if they don't leave porridge out for him.
Spain
Christmas starts on 8 December in Spain, with the Feast of the Immaculate Conception.
Lots of people set up special swings just for the festive period.
Presents don't come until 6 January (Twelfth Night), which is when the Three Kings brought gifts to the baby Jesus.