Dressing up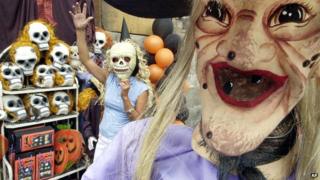 The Celts thought they had to protect themselves from ghosts and goblins.
If the jack-o-lantern didn't scare off the spirits, then they had their gift of food (a treat).
If that didn't work - there was another plan... a disguise.
If you wore a scary mask or disguise the ghosts hopefully wouldn't pick on you.
That is how wearing costumes started.
British Broadcasting Corporation

Home
Error 404 - Page not found
This might be because:
You have typed the web address incorrectly, or
the page you were looking for may have been moved, updated or deleted.
Please try the following options instead:
Use BBC search above to see if it's available elsewhere
Try one of the links at the top of the page
BBC links
BBC © The BBC is not responsible for the content of external sites. Read more.
This page is best viewed in an up-to-date web browser with style sheets (CSS) enabled. While you will be able to view the content of this page in your current browser, you will not be able to get the full visual experience. Please consider upgrading your browser software or enabling style sheets (CSS) if you are able to do so.