Contact Newsround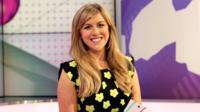 Want to contact us?
Before you contact us please check our list of Frequently Asked Questions.
To suggest a story idea, send a comment or let us know of any problems you've spotted email CBBCnewsround@bbc.co.uk
If you wish to complain about anything to do with Newsround, please look at the Complaints section at the bottom of this page.
You can also send your letters to us at:
CBBC Newsround
1st Floor
Bridge House
BBC MediaCityUK
Salford Quays
Manchester
M50 2BH
Please remember to include your name and age.
Complaints
The BBC has a system of dealing with complaints from our audience. If you are unhappy with anything the BBC does - the programmes, websites or any other services - then let us know. Please send all your complaints by filling in the form on the BBC complaints website.