BBC Newsround Home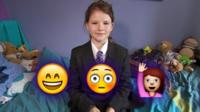 What to expect when you start high school
Lots of you will be heading back to school after the holidays and some of you will be making the jump from primary to secondary school. Here is our guide for what to expect.
2 September 2015

From the section

News
More stories
Giant sea scorpion fossil found
Scientists have found the fossil of a giant sea scorpion that lived nearly five hundred million years ago - ten million years older than any other sea scorpion discovered to date.