BBC Newsround Home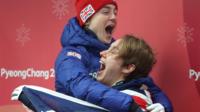 Chat: Send your congratulations to Team GB!
They've already won one gold medal and three bronzes - so we want your messages for the team at the Winter Olympics!
Six age-busting sports stars
As 36-year-old Roger Federer becomes the oldest world number one, we look at other sports stars who show no sign of slowing down with age.