BBC Newsround Home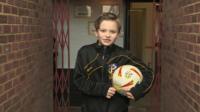 Video 0:43
Sutton kids: We're not scared of Arsenal
They're the lowest ranked team left in the FA Cup. Some of the Sutton United's younger players tell us about their club - and why they're not scared of taking on Arsenal in the fifth round.
19 February 2017

From the section

Home
Fake news: What is it? And how to spot it
Have you ever shared news online or talked about it with your friends? If you have, did you stop to think whether or not it was telling the truth before you shared it?
17 February 2017

From the section

News