BBC Newsround Home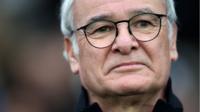 Image gallery
Pictures: Claudio Ranieri's highs and lows
The Leicester City manager has been sacked just nine months after leading the team to Premier League glory. Here are the highs, lows and funny quotes from Claudio Ranieri's career so far.
Guide: What are the Oscars and Baftas?
Each year, the film industries top talent gather to recognise and award the stars who have lit up the silver screen. Here is your guide to the biggest film award ceremonies in show business.