BBC Newsround Home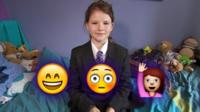 What to expect when you start high school
Lots of you will be heading back to school after the holidays and some of you will be making the jump from primary to secondary school. Here is our guide for what to expect.
Kermit responds to girlfriend rumours
Kermit the Frog has said that he's not in a relationship with a new member of The Muppets show. The famous frog split with long-term girlfriend Miss Piggy last month.
What do you think of Strictly line up?
The stars of this year's Strictly Come Dancing will be making their first appearance together on the red carpet tonight but what do you think of the line-up and who will you be supporting?