BBC Newsround Home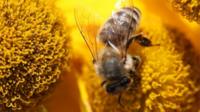 Video 1:27
Why are Queen bees being stolen?
Why police are warning about a rise in bee theft and what bee keepers can do about it.
Giant sea scorpion fossil found
Scientists have found the fossil of a giant sea scorpion that lived nearly five hundred million years ago - ten million years older than any other sea scorpion discovered to date.
1 September 2015

From the section

News