BBC Newsround Home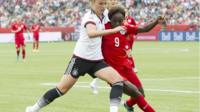 Record crowd for Women's FA Cup final
There's going to be a record crowd for the Women's FA cup final between Chelsea and Notts County at 3pm today.
1 August 2015

From the section

Sport
One Direction release surprise single
One Direction have surprised fans by releasing a new single. 'Drag Me Down' is the boys' first single without Zayn Malik, who left the band in March 2015.
UK Athletics say Mo Farah's in the clear
Bosses at UK Athletics say they have found no evidence that Mo Farah has done anything wrong after looking into claims that his coach gave drugs to another athlete in 2002.