BBC Newsround Home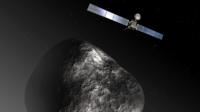 Video 1:50
The spacecraft crashing into a comet
One of the most epic space missions ever is about to reach its grand finale! Ricky's been finding out all about the Rosetta spacecraft's epic - and troublesome - 12-year journey...
30 September 2016

From the section

News
Jenny's South Africa wildlife updates
Jenny will be updating us all week on a meeting of world leaders in Johannesburg, in South Africa, who are trying to find ways to help the world's elephant population.
29 September 2016

From the section

Animals
More stories
New rules to help protect Pangolin
The small and scaly Pangolin has been given better protection from poachers. A vote at Cites, the biggest wildlife conference in the world, has agreed to ban all trade of the animal to try to stop the animal becoming extinct.
29 September 2016

From the section

Animals