BBC Newsround Home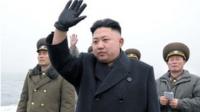 No more nuclear weapons tests by North Korea
The North Korea leader Kim Jong Un says his country will no longer carry out nuclear weapons tests.
Arsene Wenger to leave Arsenal
As Arsenal's manager of almost 22 years, Arsene Wenger, prepares to leave the club, we look back at some of his greatest moments.
More stories
Millie Bobby Brown makes Time 100 list
The actress has been selected as one of Time's hundred most influential people this year along with Prince Harry, Meghan Markle, Rihanna and Shawn Mendes!