BBC Newsround Home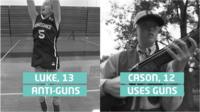 Video 2:55
Guns in the US: Kids tell us what they think
We've been to meet two kids from the US who have very different opinions on the gun laws in the country. One wants to see change and one likes the laws as they are.
Video 1:29
Juan Mata's charity promise
The Spanish footballer has pledged to give away one percent of his Manchester United salary to charity. But can he convince other footballers to join him?