BBC Newsround Home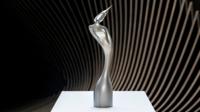 Image gallery
Pictures: Who is nominated for a Brit Award?
The Brit Awards take place on 22 February but who is nominated at this year's awards? Here are the acts up for some of the top awards.
Fake news: What is it? And how to spot it
Have you ever shared news online or talked about it with your friends? If you have, did you stop to think whether or not it was telling the truth before you shared it?
17 February 2017

From the section

News