BBC Newsround Home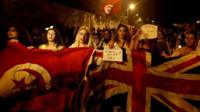 Guide: What's happening in Tunisia?
Hundreds of people have returned home safely to the UK after tragic events in the country of Tunisia in north Africa. Find out more about what's happening in Tunisia.
29 June 2015

From the section

News
Video 1:59
Life of pit ponies in the mines
Over 100 years ago pit ponies were used to carry coal dug up from underground mines. Now a new exhibition has opened to show what the animals did and the conditions they worked in.
28 June 2015

From the section

Animals