BBC Newsround Home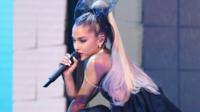 Manchester Arena attack: Ariana Grande 'thinking of you all'
Ariana Grande has paid tribute to the victims of the Manchester Arena attack which happened a year ago today.
Our best video clips
What is the 'dark side' of the moon?
China's launched a satellite which will help it explore the side of the moon that Earth doesn't get to see. But what is the mysterious dark side, or far side, of the moon?