BBC Newsround Home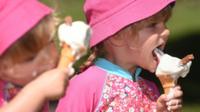 Hope for slower-melting ice cream
A new ingredient developed by scientists in Scotland could mean that ice cream fans can enjoy their treats before they melt.
31 August 2015

From the section

News
Taylor Swift wins big at MTV awards
Taylor Swift took home four prizes, including Video of the Year, at the MTV Video Music Awards on Sunday night. The show was hosted by singer Miley Cyrus.
More stories
Did you watch The X Factor?
The X Factor returned to our TV screens this weekend with the hope of finding the world's next big music superstar. We wanted to know what you thought of the new series.