BBC Newsround Home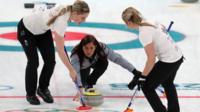 GB lose to Sweden in curling semi-final
Great Britain's women curlers lose to Sweden in the Winter Olympic semi-finals and will play for a bronze medal on Saturday.
More stories
Vote: Should schools ban hairstyles?
A school in the UK banned pupils from having what they've called 'extreme hairstyles', but some people don't agree with it. Let us know what you think.