BBC Newsround Home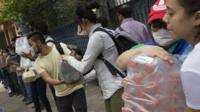 Third earthquake in a month hits Mexico
Rescuers are working hard to help people after three earthquakes in Mexico.
More stories
Image gallery
Stars being lined up for new TV show
While weekends at the moment are all about Strictly and X Factor, there's going to be a new show on TV keeping us entertained. Sounds Like Friday Night starts on BBC One in October and producers say it'll feature "the hottest bands and artists in the world". So what can we expect?