BBC Newsbeat Front Page
Top Stories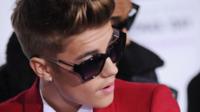 Canadian singer Justin Bieber accuses paparazzi photographers of acting "recklessly" after an incident in Hollywood.
Grand Theft Auto makers say Lindsay Lohan is suing them for "publicity purposes" after she took them to court over image rights.
Singer Pixie Lott is the 11th celebrity announced to take part in this year's Strictly Come Dancing.
Beyonce's Medley
All you need to know about the MTV Video Music Awards in eight pictures.
You Might Have Missed
Newsbeat takes a look at the facts behind the Ebola outbreak without any of the hype.
Hip hop mogul Suge Knight, who was shot and wounded over the weekend, is resting in hospital but has "lost a lot of blood".
The rapper Young Jeezy is in custody, accused of possessing an illegal firearm, found in a search after a fatal shooting.
Other Top Stories
Latest From BBC News
Pressure is growing on South Yorkshire's police commissioner to resign in the wake of a damning report into child abuse in Rotherham.
Latest From BBC Sport
Live text and radio commentary as Arsenal host Besiktas in their Champions League qualifier, plus five League Cup ties.
Latest Programme
The day's news including the latest on a report of widespread child abuse in Rotherham.
27 August 2014