Politics
Top Stories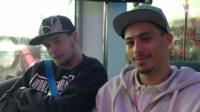 Ex-prisoners tell Newsbeat about the reality of prison life after the Justice Secretary says there is a problem with violence and suicides.
As the government admits it can't work out the finances around student loans, are you having problems with them?
Lib Dem leader Nick Clegg has a dig at the Daily Mail's coverage of the cabinet reshuffle, which concentrated on the appearance of female ministers.
Scottish referendum
Shona Summers looks at how young people in the UK view the Scottish vote on independence
Other Top Stories