Politics
Top Stories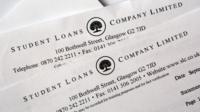 As the government admits it can't work out the finances around student loans, are you having problems with them?
Lib Dem leader Nick Clegg has a dig at the Daily Mail's coverage of the cabinet reshuffle, which concentrated on the appearance of female ministers.
It's not just football clubs trying to sign up the best talent for the coming season, as David Cameron carries out a cabinet reshuffle.
Scottish referendum
Shona Summers looks at how young people in the UK view the Scottish vote on independence
Other Top Stories