Technology
Top Stories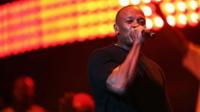 Luke Wood, the president of the headphone manufacturer Beats by Dre, says he "disagrees" with the view that its headphones are too bass-heavy.
EA Sports announces that Fifa 15 will be released on 26 September in the UK and will feature Lionel Messi as its cover star.
Following speculation around access labels have to Soundcloud content, industry experts explain copyright infringement.
Other Top Stories
BBC Click
Video: Engineers are making it possible for spectators to race against the world's fastest man.
Video: Kevin Spacey's series House of Cards is a prime example of how the broadcasting world is changing. But will a world of on demand TV be devoid of passion and personality. BBC Newsnight's David Grossman reports.