Technology
Top Stories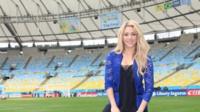 Guinness world records confirm pop star Shakira has set a new Facebook record after reaching 100 million likes on Facebook.
Luke Wood, the president of the headphone manufacturer Beats by Dre, says he "disagrees" with the view that its headphones are too bass-heavy.
EA Sports announces that Fifa 15 will be released on 26 September in the UK and will feature Lionel Messi as its cover star.
Other Top Stories
BBC Click
Video: Personal aerial drones that take pictures could soon become a lot more common, thanks to a new invention.
Video: Kevin Spacey's series House of Cards is a prime example of how the broadcasting world is changing. But will a world of on demand TV be devoid of passion and personality. BBC Newsnight's David Grossman reports.