BBC Newsbeat Front Page
Top Stories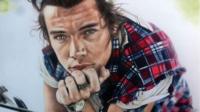 A teenager has given up his studies after his portraits of One Direction went viral.
Singer Banks has said she is "uncomfortable" that Neon Jungle released one of her songs without asking her.
The picture-based social media site has revealed a new Snapchat-style app that lets users send temporary messages.
Anger Management
Michael Sorrentino, who is also known as The Situation, has been ordered by a court to go to anger management, over assault charges.
You Might Have Missed
The supermarket chain is now playing signed and unsigned music artists throughout its UK stores.
Video: Meet Indiana, who has performed in front of the Queen, played at Radio 1's Big Weekend and her latest single is about to feature one Radio 1's playlist.
Sandra Smiley from Medicins Sans Frontieres recently came back from the African countries affected by the Ebola outbreak.
Other Top Stories
A girl has thanked her Twitter followers for their support after a heavy night of attacks in Gaza.
In the middle of his busy summer, Newsbeat grabs five minutes with acoustic singer Josh Record.
Wrestling star Daniel Bryan uses one of his moves on man seen running from his house.
Latest From BBC News
The US and UN condemn the shelling of a UN school housing civilians in Gaza, as Palestinians say Israeli attacks kill more than 100 in the day.
Latest From BBC Sport
Greg Rutherford adds Commonwealth gold to his Olympics long jump title as England move top of the medal table in Glasgow.
Latest Programme
The day's news including an emergency UK government meeting over the deadly ebola virus.
30 July 2014