BBC Newsbeat Front Page
Top Stories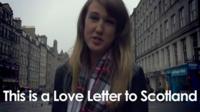 VideoNewsbeat gives the people of Edinburgh, and some slightly confused tourists, a chance to give a message to Scotland.
19 September 2014

From the section

Politics
Many 16 and 17-year-olds who voted in the Scottish independence referendum say they'd like to vote in next year's general election.
19 September 2014

From the section

Politics
NFL's Commissioner Roger Goodell says policies will change after a video appearing to show Ray Rice knocking his then-fiancé unconscious was posted online.
Troll politics
The Scottish referendum was a political campaign, but online trolls and arrests brought a nasty side to a few voting stations.
You Might Have Missed
Apple might have created a tool to remove it but Bono thinks it's great so many people have listened to U2's new album.
With some users up in arms about Apple's chunky update, here's some advice on how to find room for it on your phone.
Equalizer actor Denzel Washington gives advice on getting into the film business on 1Xtra's Breakfast Show.
Other Top Stories
From BBC Radio 1
Yes that's right – on Monday 10 November 2014, Grimmy, Fearne, Scott, Greg and more will be heading to one secondary school to take over for the day.
This September, after a huge summer of live events, BBC Radio 1 brings you Even More Music Month.
Latest From BBC News
Alex Salmond is to step down as first minister of Scotland and Scottish National Party leader after voters rejected independence in Thursday's referendum.
Latest Programme
A live programme from Scotland: Hours after the no vote wins, the first minister resigns.
19 September 2014