BBC Newsbeat Front Page
Top Stories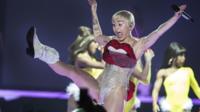 A Miley Cyrus concert scheduled for the Dominican Republic has been banned over the "morals" in her performances.
22 August 2014

From the section

Music
Sony has announced PlayStation Network will be offline for seven hours on Monday evening as part of planned maintenance.
The Nashville star reveals her pregnancy in Ice Bucket Challenge video.
Live Lounge Month
BBC Radio 1 will have Live Lounge sessions every day in September, featuring artists including Maroon 5, Ed Sheeran and Sam Smith.
You Might Have Missed
MOTD's Gary Lineker has criticised Twitter trolls who are abusing him about about an infamous on-field accident at the 1990 World Cup.
Erin McBride says she'll be on 'A little high' when she accepts becoming European Champion.
A photographer has accused Justin Bieber of inflicting emotional distress over a row about a memory card.
Other Top Stories
Latest From BBC News
Islamic State militants in Syria and Iraq are the most dangerous threat the US has faced in recent years, senior American officials warn.
Latest From BBC Sport
Latest transfer news, updates as seven Premier League managers face the media, plus 50 years of BBC's Match of the Day.
Latest Programme
The day's news including the risks of watching the killing of James Foley on social media.
21 August 2014