Entertainment
Top Stories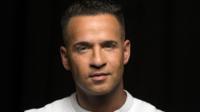 Michael Sorrentino, who is also known as The Situation, has been ordered by a court to go to anger management, over assault charges.
Lily Allen posted a mocked-up picture on Instagram of her being arrested by officers in Australia before taking it back down.
Justin Bieber wins a charity award at the Young Hollywood Awards in Los Angeles on Sunday night.
Bake Off
The contestants on this year's Great British Bake Off have been revealed.
Also From Newsbeat
The former N-Dubz singer tells Newsbeat "there was a really low point" during her recent assault charge case and drug trial.
A house in Barry, south Wales, used in BBC show Gavin & Stacey is being sold for £125,000.
The personal assistant of former X Factor judge Tulisa Contostavlos apologises for calling Simon Cowell gay.
Other Top Stories
Latest From
Check out Grimmy's latest picture galleries
Find a movie to watch with Rhianna's reviews