Oasis and Kasabian album covers used to attract fans to non-league Leek Town FC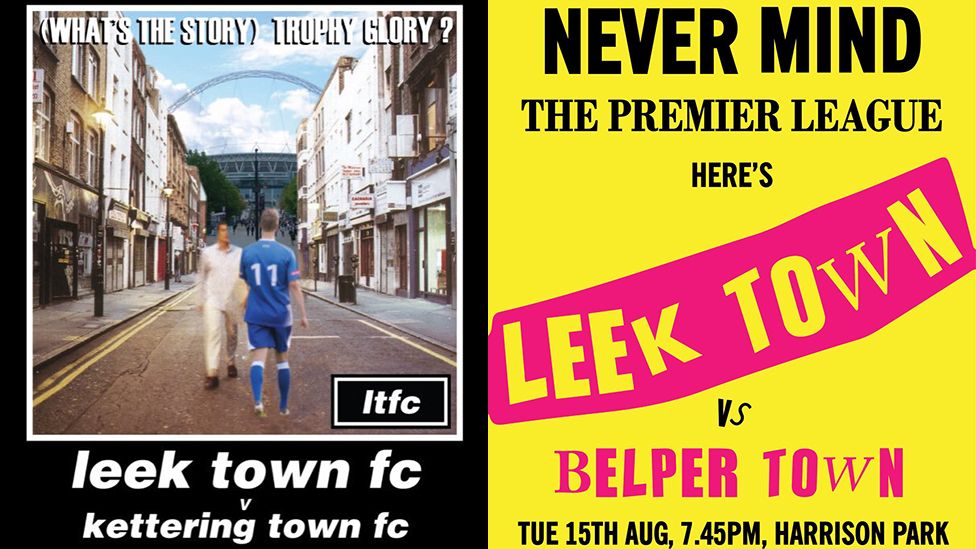 Non-league team struggling to get people in for matches?
Here's one way you can attract more fans.
Leek Town FC, based in Staffordshire, currently sit 8th in the Northern Premier League Division One South - in the eighth tier of English football.
And they've come up with a clever way to get more fans interested - using famous movie posters and album covers to help advertise their upcoming matches.
It's all thanks to Paul Buxton, a Leek Town fan who mocks up the posters based on suggestions from the club's chairman, Jon Eeles.
He says that the posters helped increase attendance by about 12% last season - their current average this season is around 270 people per game.
And the team even bases its match day playlist on the band whose album they've used.
Here are some of our favourites.
What would Oasis' Noel and Liam make of this?
Well at least they've kept this one clean - unlike the Sex Pistols' original album title.
In case the magic of the cup needs a sprinkle of Disney.
See what they've done here.
The one where Ross and Rachel went to Leek.
We're not sure they're going to get Serge to change allegiance from Leicester City any time soon.
Is it a bird? Is it a plane? Is it... a leek?
Football, uh, finds a way.
Leek Town are still trying to escape the Northern Premier League Division One South.
From Elvis, to the Clash, to Leek Town. A natural progression.
Don't want to be a Staffordshire idiot.
Based on Pink Floyd's 1979 classic The Wall - nothing to do with defending free kicks.
Find us on Instagram at BBCNewsbeat and follow us on Snapchat, search for bbc_newsbeat