Stock photo meme couple get their own life story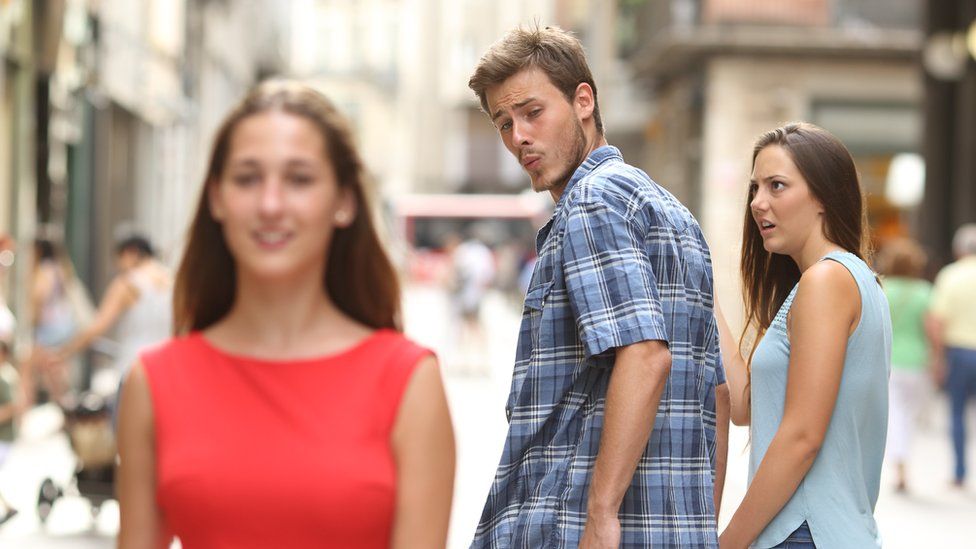 They were the inspiration for hundreds of memes after going viral in the summer.
Now the famous stock shot couple have been given their own life story.
The photo shows a man looking at another woman while walking with his girlfriend - who appears disgusted.
It took off on the internet when people put their own spin on what the models were really thinking about.
And it even inspired someone's fancy dress costume.
Thanks to eagle eyed Twitter user Andrew J Abernathy we now know their entire life history.
After looking for a stock shot while writing for work, he spotted that the models have been photographed together a lot.
And the internet's newest soap opera was born.
She must have forgiven him for his wandering eye. After all it looks like they became proud parents.
And they've even bought something big. Maybe a house?
Although clearly it didn't work out that well.
Other life moments they shared together seems to include the woman struggling with a baby, finding something incriminating on her boyfriend's phone and even pleading with her beau.
As for how the story ends? It doesn't look like there's a happy ever after.
And for Andrew, the soap opera has also had a dramatic ending.