How a drag wrestler broke the mould for LGBT representation in wrestling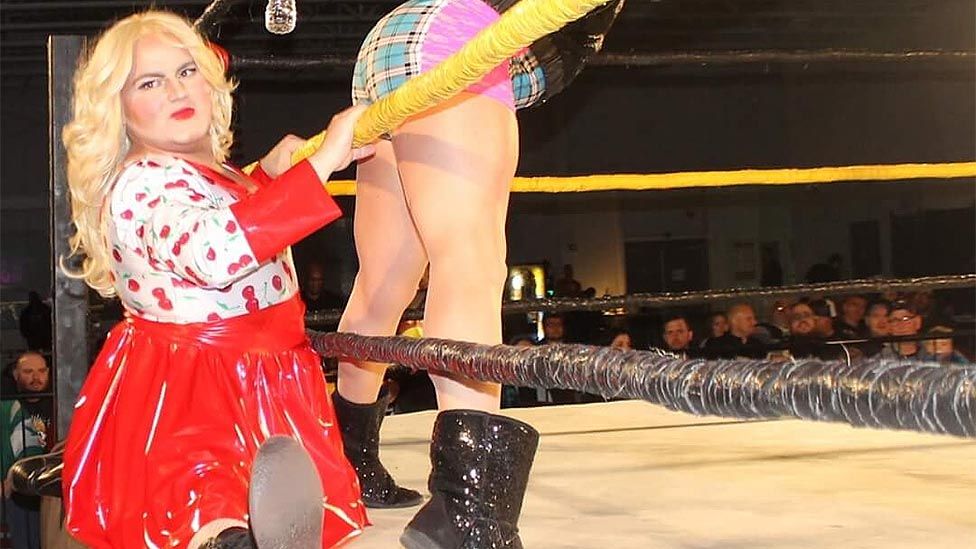 The wrestling industry isn't known for LGBT representation, but drag wrestler Rick Cataldo is hoping to change that.
Rick has been a professional wrestler since 2004 but his career took off in 2014 when he formed The Fella Twins.
As part of the duo, he says he was able to pay tribute to the female wrestlers who inspired him as a child.
"At an early age I was attracted because even in such a violent atmosphere there could be beauty and colour," he tells Newsbeat.
"Plus, the big boobs and the blonde hair? That wasn't so bad either."
They'd throw my bags out of the locker room because they found out I was gay
Growing up idolising WWE Divas such as Sable, Terry Runnels and Dawn Marie, Rick started wrestling at 14 but struggled to find a place in the industry.
He never wanted to be like other male wrestlers and instead worked with female wrestlers.
"I was always the joke and the comedy relief," he says. "I was trying to find my place and what would get me bookings."
Warning: Third party videos may contain adverts
He says male wrestlers had pretended to be gay, but found that being open about his sexuality outside the ring proved to be a major hurdle.
"They'd throw my bags out of the locker room because they found out I was gay and it wasn't just a character [I was playing]," he explains.
"To this day, independent companies won't book me because of a fear of what families might say."
In 2014 he started wrestling in drag, reinventing his act and finding the success he craved once he proved doubters wrong.
"I wanted to turn up at every show looking just as beautiful as the girl wrestlers on TV," he says.
"I've stuck with it for three years because it's working and finally people are like, 'OK, Rick is doing something here.'"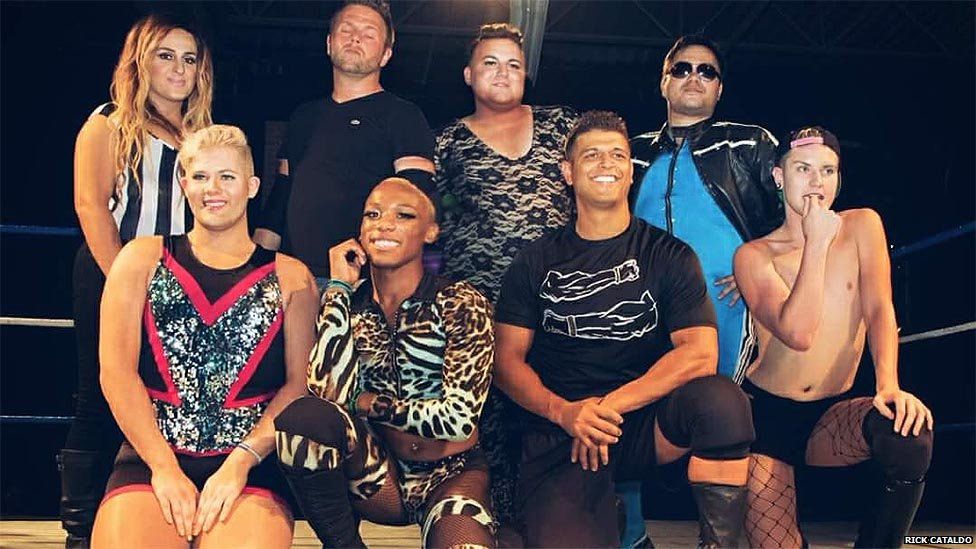 Rick, who lives in Los Angeles in the US, found more success and bookings with The Fella Twins and inspired other LGBT people to enter the industry.
"Over the last three years there have been a lot of LGBT wrestlers," he explains.
"A lot of them reached out to me and said how much I'd inspired them. I reach back to a lot of them because there was no-one before me to do that."
However, after three years as part of The Fella Twins, Rick's next goal is to help promote LGBT wrestling helping others find a place in the mainstream.
"My main goal, overall, was to look back and have left a dent in the world of professional wrestling," he says.
Find us on Instagram at BBCNewsbeat and follow us on Snapchat, search for bbc_newsbeat