Basketball legend Shaquille O'Neal releases diss track aimed at Roadman Shaq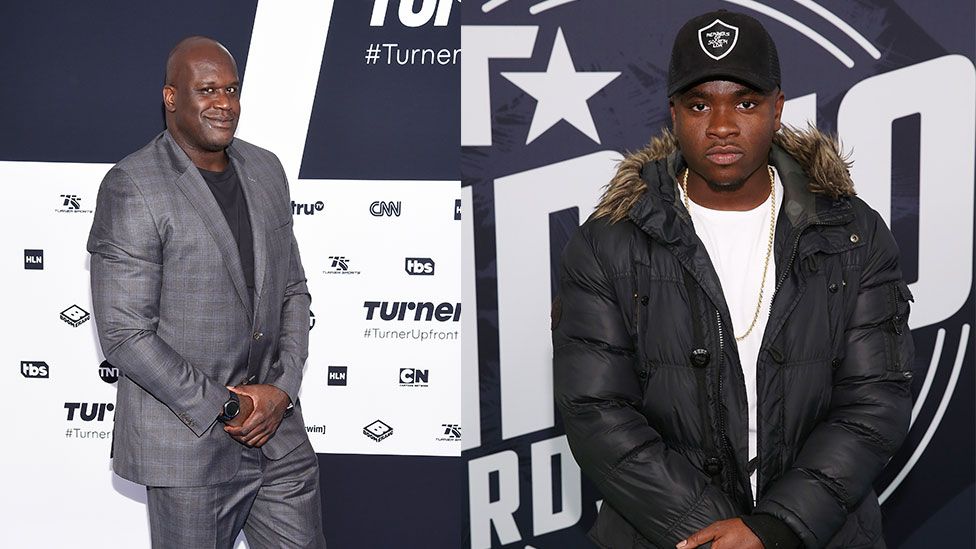 "Man's not hot" apparently.
But Roadman Shaq may be sweating now that 7ft 1ins former NBA superstar Shaquille O'Neal has aimed a diss track at the viral sensation.
Shaquille has teamed up with Toronto MC ShaqIsDope after seemingly taking offence at Roadman Shaq calling himself "Big Shaq".
"There's a lot of people who are named after me. Shaquille. Shaq. But keep in mind, there's only one Big Shaq," he raps.
"It is I, the originator, the dominator, the creator. Don't you ever call your name Big Shaq."
Last week, the NBA hall of famer walked on to Jimmy Fallon's show to a version of Roadman Shaq's Man's Not Hot performed by The Roots.
He didn't look too pleased.
Comedian Michael Dapaah, who plays Roadman Shaq, became an overnight star after his Fire in the Booth on Charlie Sloth's Radio 1 show went viral.
It proved to be so popular that the full version of the rap debuted in the Official Charts at number three and the YouTube video has been viewed more than a million times.
The famous line from Roadman Shaq's freestyle - "The ting goes skrrra pap pap ka ka ka skidiki pap pap and a pu pu drrrr boom SKYAAA du du ku ku tun tun poom poom" - features as a hook in Shaquille's track, which he released on SoundCloud.
Roadman Shaq has yet to respond but one things for sure, even though he's long retired, you don't mess with the "original Shaq" on - or off - the basketball court.
Find us on Instagram at BBCNewsbeat and follow us on Snapchat, search for bbc_newsbeat