Dove apologises for 'racist' Facebook advertising campaign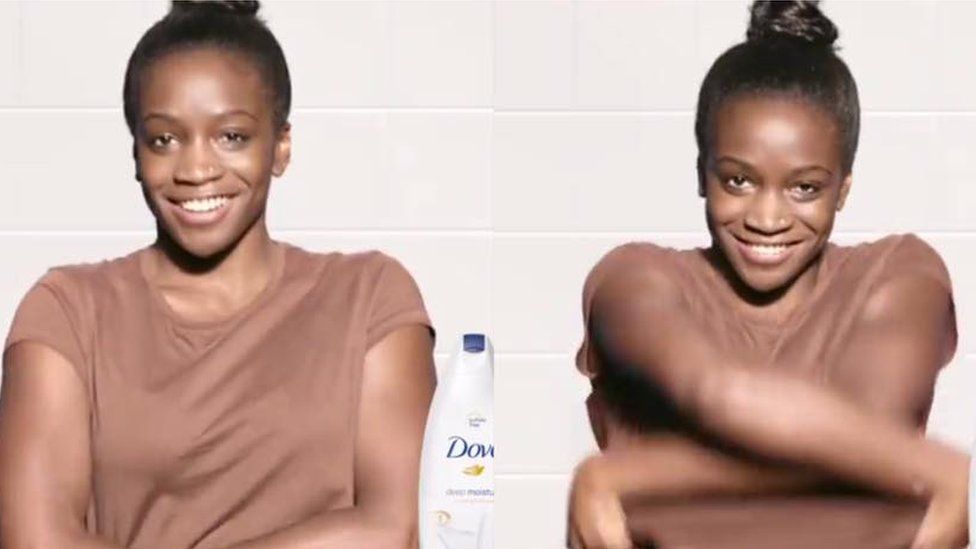 Dove soap has apologised after releasing a series of "racist" images that appeared to show a black woman turning into a white person.
The Facebook advertising campaign used a series of three images, showing a black woman peeling off her T-shirt to reveal a white woman underneath her skin.
A third image shows the white woman undressing to reveal an Asian woman.
"We deeply regret the offense it caused," the brand tweeted.
The Facebook video has now been removed, but Nay the mua, an American makeup artist, saw the photos come up on her feed and shared them with her followers.
"So I'm scrolling through Facebook and this is the #dove ad that comes up.... ok so what am I looking at," she wrote in her photo's caption.
It's sparked a lot of debate on social media with some people accusing the brand of racism and whitewashing.
While others in the comments beneath Nay's post were quick to point out they thought the brand was trying to say the soap could be used by all races.
"I think they meant it's for all skin types... it went from black to white to another race," said one Facebook user.
"The third woman is definitely not white but this was a bad deliverance of the message that all can use the soap," posted another.
And in some cases the new campaign has even led to people highlighting controversial moments in the brand's past.
In 2011, Dove was accused of racism for using a before and after image that appeared to place three women on a colour gradient, with the lightest woman suggested as the end result.
And back in 2015, Dove was at the centre of controversy after it released a summer glow cream advertised for use on "normal to dark skin."
Dove added later in a statement: "This did not represent the diversity of real beauty which is something Dove is passionate about and is core to our beliefs, and it should not have happened.
"We have removed the post and have not published any other related content. We apologise deeply and sincerely for the offence that it has caused."
Find us on Instagram at BBCNewsbeat and follow us on Snapchat, search for bbc_newsbeat