The student taking selfies with the men who whistle and ask for sex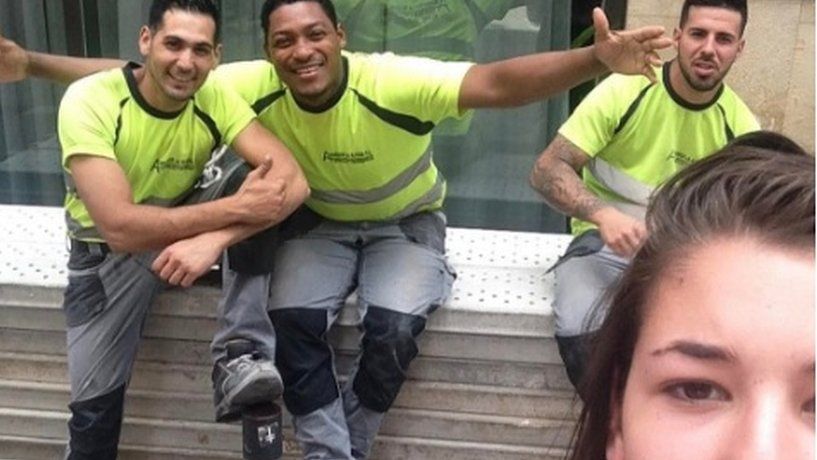 Student Noa Jansma has been taking selfies and posting them on Instagram with every man who harasses her in the street.
The 20-year-old from Amsterdam decided to do it as a month long project.
Noa told Newsbeat the treatment she's received ranges from wolf-whistling, being asked for sex and being physically stopped in the street.
"I just never knew what to do if someone catcalled me.
If I went against it, the situation just escalated, and it would give me a real fright."
She says she didn't want to just ignore it because it "felt weird" that the men could get away with saying whatever they wanted without consequence.
So Noa started asking them for a selfies. She says many were "proud" to have been asked for a picture.
She didn't tell them what it was for, unless they asked.
Only one of them did - but still went ahead with the photo.
Noa says her male friends had no idea what she and her female friends had to put up with.
"I found this so weird that for half of humanity this is a daily life issue, while for the other half, they don't even know this.
"So that's how I came up with the idea - to just show it actually."
Noa says she's not trying to "shame" the men, she just wants to "make a statement".
"If these men ask me to take the picture off Instagram, I will do it, because I don't want to ruin their lives," says Noa.
"It's more like a mirror, they're coming into my privacy on the street in front of everyone, so I'm coming into their privacy."
Noa says she wants the project to create awareness for women who've had to put up with it as part of their daily lives.
"It's a global problem.
"That's why I will give the account to another girl in another country and in another city just to show it can happen everywhere to anyone."
Find us on Instagram at BBCNewsbeat and follow us on Snapchat, search for bbc_newsbeat