James Corden sings response to Donald Trump's trans military ban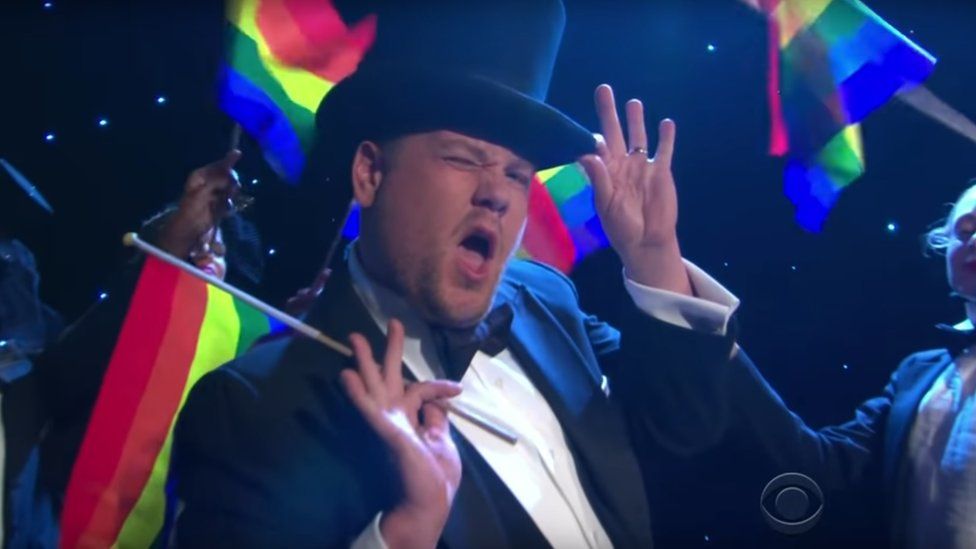 James Corden has hit back at President Donald Trump's decision to ban trans people from serving in the military via the medium of song and dance.
The late night host replaced the lyrics in the song L-O-V-E with his own, renaming it L-G-B-T.
"Potus thinks it's unsavoury, patriots who know real bravery. Trump's got hate for me and you," he sings.
Trump tweeted on Monday that trans people will not be allowed "to serve in any capacity in the U.S. Military."
Warning: Third party content, may contain ads.
The songs starts with Corden singing: "L - he doesn't care for lesbians.
"G - he thinks two men should just be friends.
"B - to his dumb knowledge, is just a phase in college.
"T - he finds confusing so the army's now refusing trans women who only want to serve, trans men who only want rights we all deserve."
Warning: Third-party content, may contain ads.
He goes on to say that the move only saves 0.04% of the military's budget, before mocking Trump over the size of his hands.
The tune is based on a song made famous by Nat King Cole in 1965.
In his monologue after the performance, the host of the Late Late Show brought up the fact that Trump avoided compulsory military service during the Vietnam War through student and medical deferments.
James Corden also addressed the finding that the military spends far more on erectile dysfunction medication than it does on transgender healthcare.
Meanwhile, Stephen Colbert, who presents Corden's sister programme The Late Show, gave a shorter - four letter - response to the president.
Warning: Third-party content, may contain ads.
And Seth Meyers of Late Night got four of his writers to tackle the issue.
They focused on Ivanka Trump's previous advocacy of LGBT rights, and questioned where she has been for all her father's controversial statements.
Warning: Third party content, may contain ads.
Find us on Instagram at BBCNewsbeat and follow us on Snapchat, search for bbc_newsbeat