Stormzy chosen as person of the year by University of Oxford's Afro-Caribbean society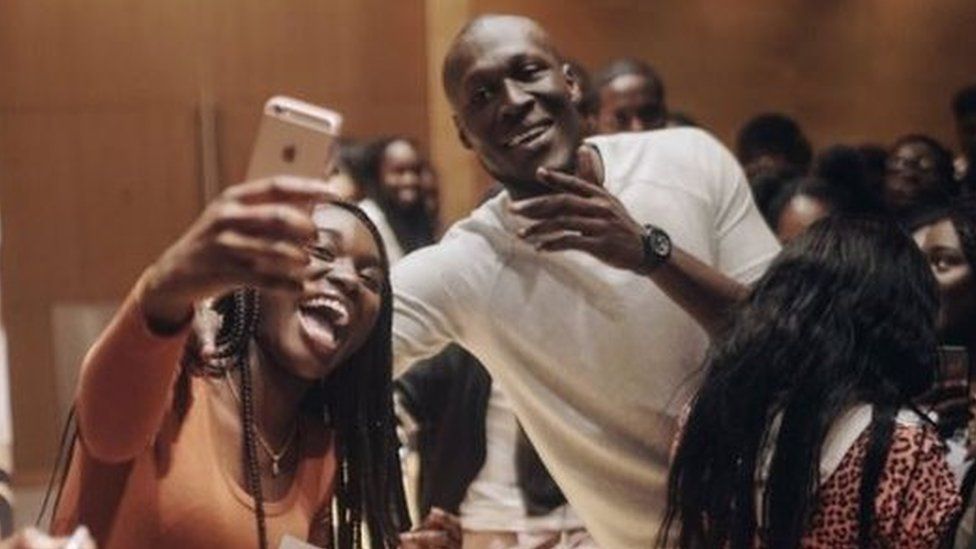 The University of Oxford's African and Caribbean society (ACS) has crowned Stormzy as its person of the year.
"Today I received the 'Person Of The Year' Award from Oxford University ACS. Standing proud in a room full of young black Kings & Queens," he tweeted.
Stormzy was handed the award as part of Oxford University's Annual Access Conference.
The rapper shared pictures of him and his award alongside students who attended the event on Tuesday night.
It's an event designed to encourage students of African and Caribbean descent to make applications to Oxford and higher education as a whole.
The society's Annual Access Conference usually honours black Oxford alumni, giving them the chance to speak to year 12s about what can be achieved by studying at the university.
But this year, they mixed things up dedicating an award to the rapper for being a positive role model.
"Thank you for continuing to inspire our generation, and for your support of Oxford ACS outreach work," they said in a tweet after the conference.
The 23-year-old rapper accepted his award at the conference before flying to Ibiza for his first Merky music festival.
But the grime artist seemed to be just as star struck to be accepting the award as some of his fans were at meeting him.
"I was in a room full of young black Kings & Queens who inspire me more than they could even imagine," the rapper wrote in a caption on Instagram.
"Our future Leaders, CEO's, Moguls etc. You lot gas me and motivate me."
Newsbeat spoke to Renee Kapuku, president of Oxford's ACS, about why Stormzy was the man for this year's award.
"He's a great example of how young black people can progress while holding on to their roots," she said nodding to Stormzy's debut album, Gang Signs and Prayer.
"He pushed the boundaries of grime and experimented with new sounds, taking grime to new spaces.
"He's never been afraid to speak out against injustices and has promoted the positivity within our community."
This isn't the first time the rapper has crossed paths with the society. In January he donated £9,000 to a student's crowdfunding campaign.
"He supported our former vice-president Fiona in her pursuit of study at Harvard," 20-year-old Renee told Newsbeat.
"He has truly been an inspiration.
"Stormzy epitomizes everything we wish to impart on the students we engage with."
Find us on Instagram at BBCNewsbeat and follow us on snapchat, search for bbc_newsbeat