Grenfell Tower fire: This is what you can do to help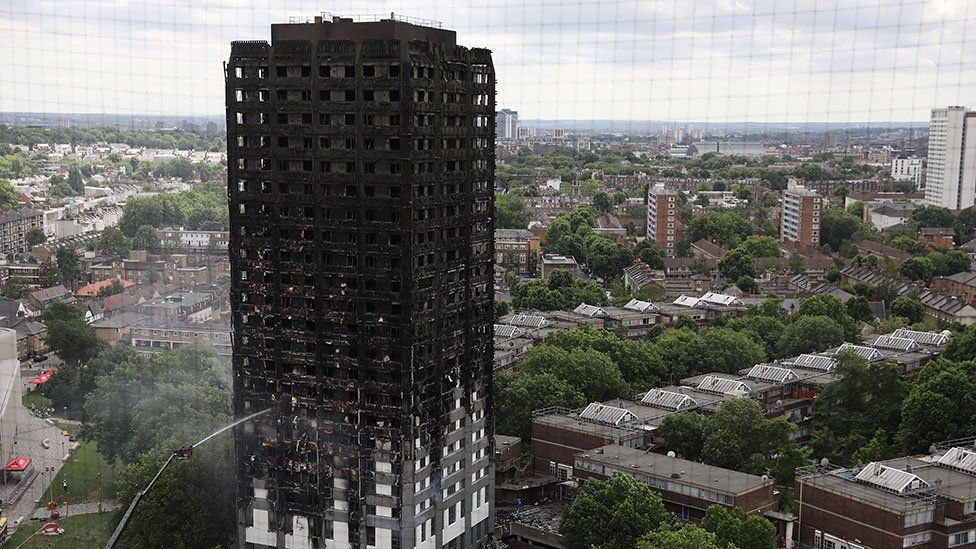 At least 17 people have died and 30 people remain in hospital after a huge fire in a London tower block.
Many more people are still missing and rescuers say they do not expect to find anyone else alive in the remains of the 24-storey block.
The fire is believed to have started on the fourth floor and spread quickly.
London residents - including Adele and Noel Clarke - have been coming to the area in the west of the capital to offer what help they can.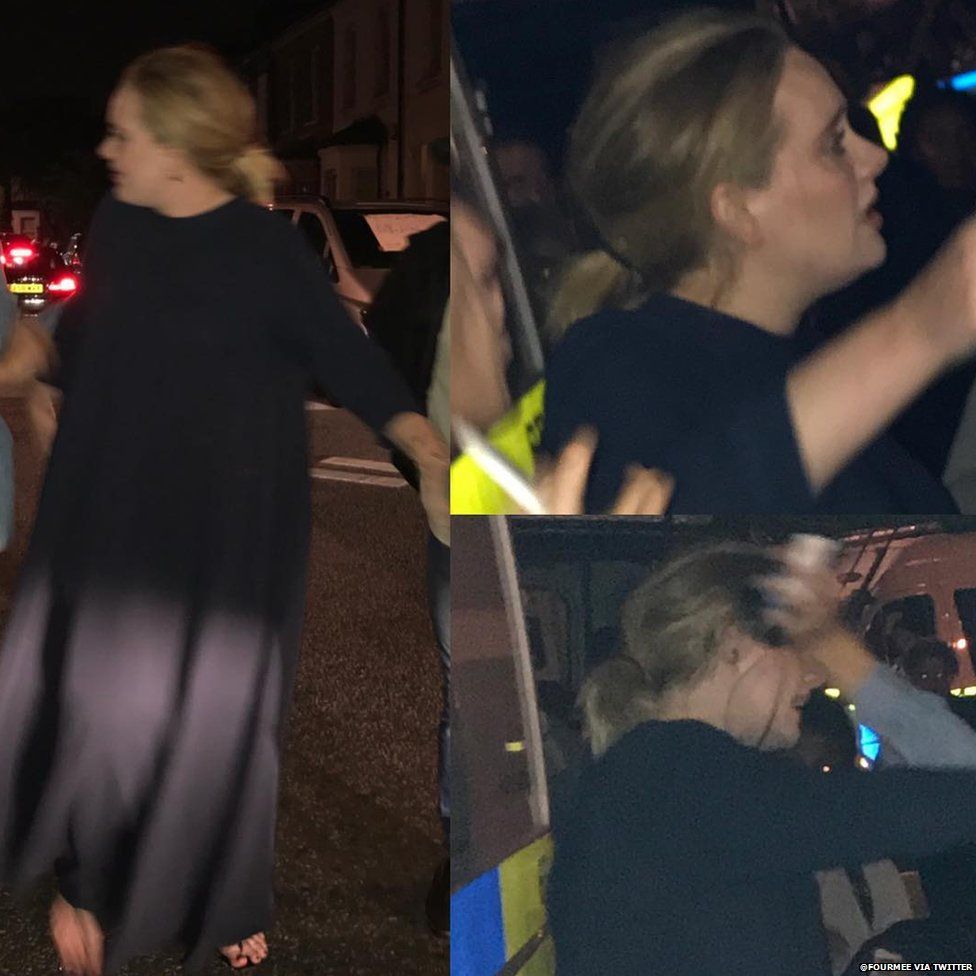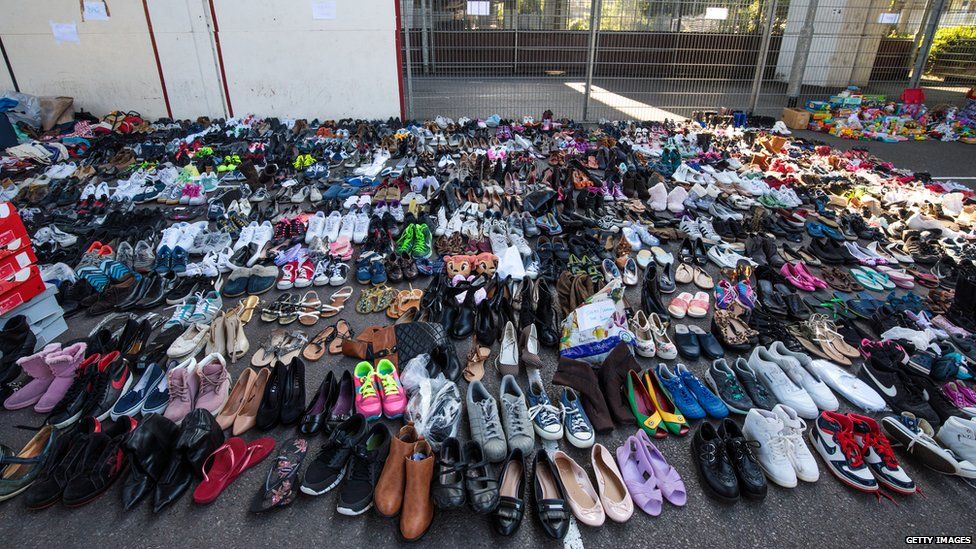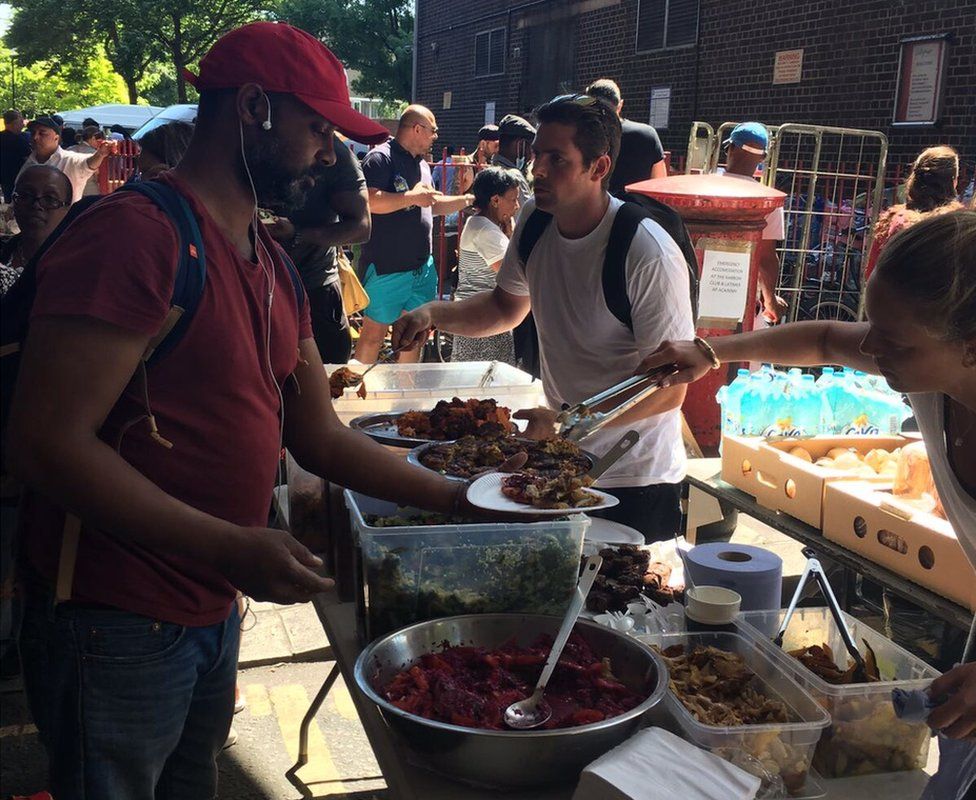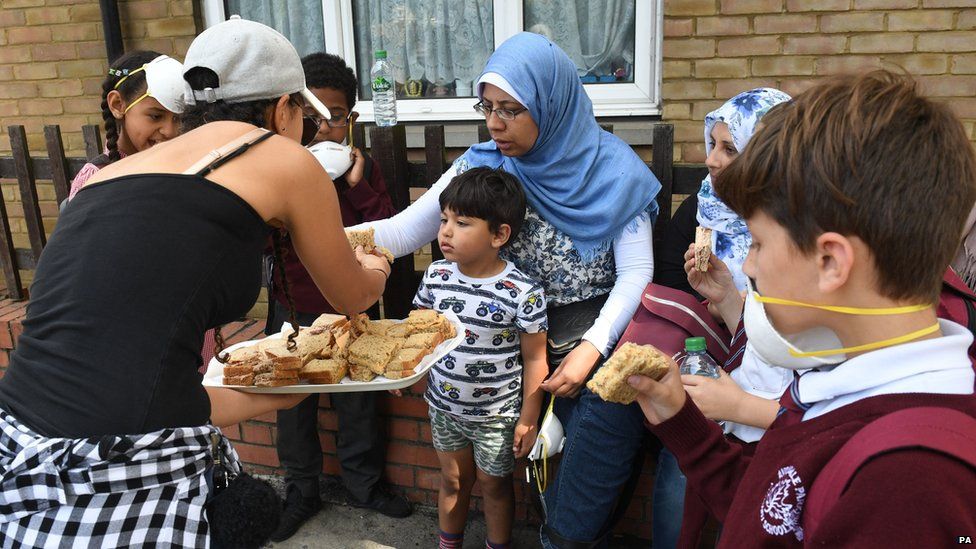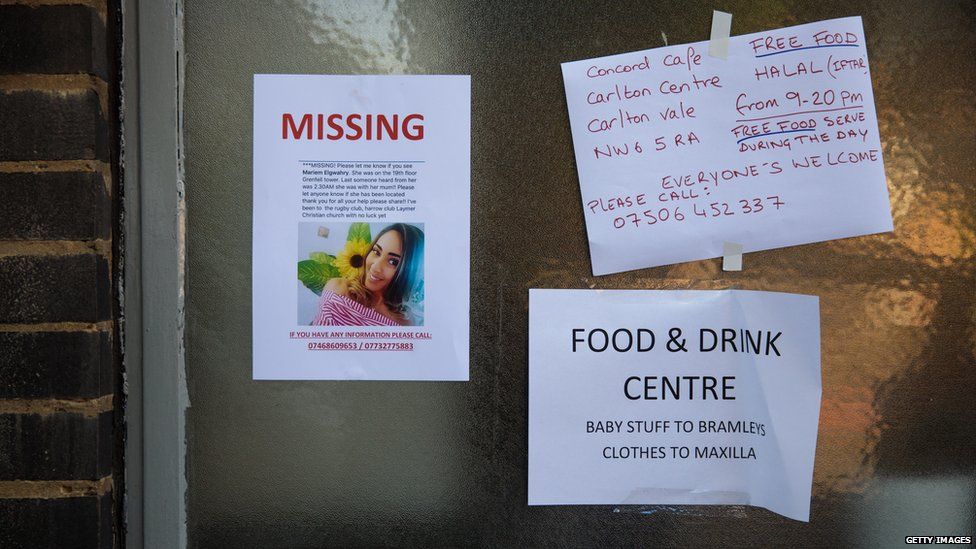 David Holdsworth from the Charity Commission advises donors to "check that they give to a registered charity in order to best support those affected, and also importantly to check with those charities what support they need - whether that is money, time or other essential supplies."
You can search the charity register online.
Storage
Most local charities, community centres and religious institutions say they are well-stocked in most supplies at the moment, although that could change and they will be updating people online.
The Westway Trust say that at the moment, they need storage boxes for food and clothes.
London fire: Beds, tea and lifts for tower block victims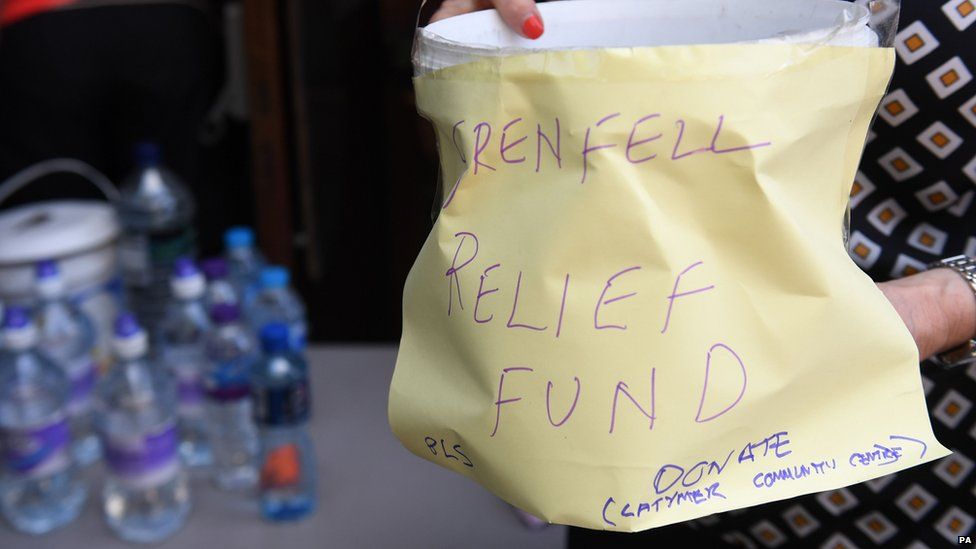 Since the early hours of Wednesday morning, St Clements Church has been taking in "acutely distressed" residents.
"My main effort is to provide water, breakfast, tea and coffee and a toilet," says Reverend Alan Everett.
"We're planning for the rest of the day. We're providing lunch and supper and if necessary we're providing a place to stay overnight."
Newsbeat has also seen police officers helping carry supplies to temporary shelters.
Other churches and mosques are also offering aid.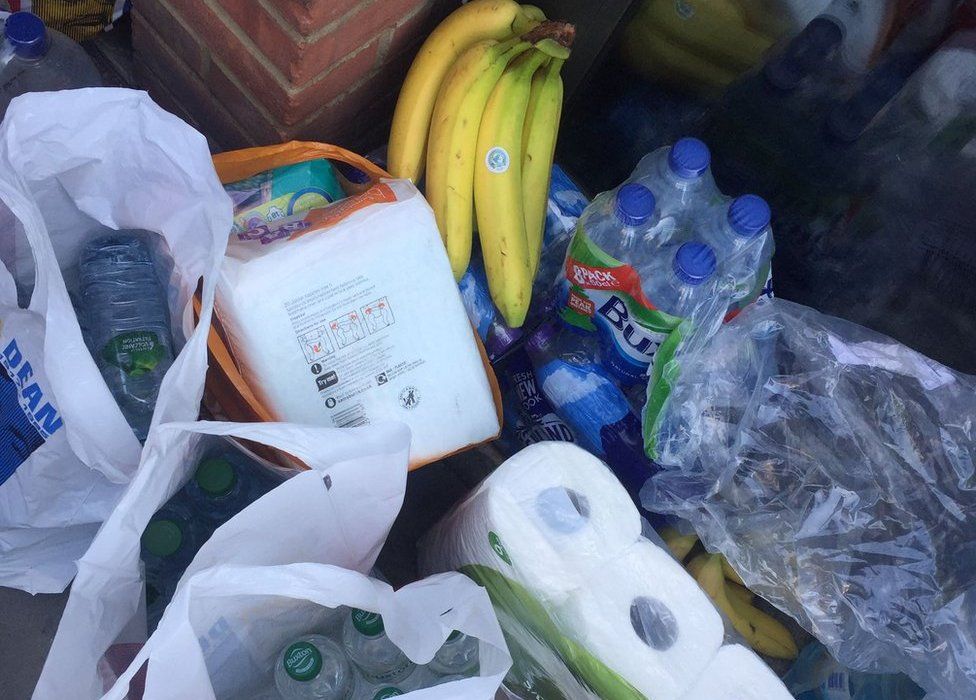 While a number of places are collecting items for residents' immediate needs, there are other groups planning for the future.
Rugby Portobello Trust, for example, wrote on its Facebook page: "There will be many people needing long-term support and supplies and to be most effective in supporting them, we're asking everyone to please hold off on dropping anything to RPT until we can put together a list of what is needed."
Blood
NHS Blood and Transplant say they are well-stocked in terms of existing blood donations.
"Our thoughts are with everyone affected in Kensington today," a spokesman told Newsbeat on Wednesday.
"We have all the blood hospitals need, thanks to our loyal donors who come to give blood throughout the year, and no urgent donations are required."
The organisation says it always needs regular donors, to ensure a ready supply of blood is available in a crisis.
Crowdfunding
A number of unofficial online crowd funds have sprung up, many of which have already raised thousands to help the survivors of the fire.
The Kensington and Chelsea Foundation also have a support fund for Grenfell Tower residents.
The Rugby Portobello Trust says money they have raised from cash donations has already started to be distributed among residents of the Tower.
They say they gave out over £2,000 on Wednesday to people who had lost their cards and possessions.
Legal aid
A number of lawyers are offering legal aid for residents.
Other lawyers have also said they will help.
Local support
Other people, charities and organisations have been offering shelter or access to phones and food.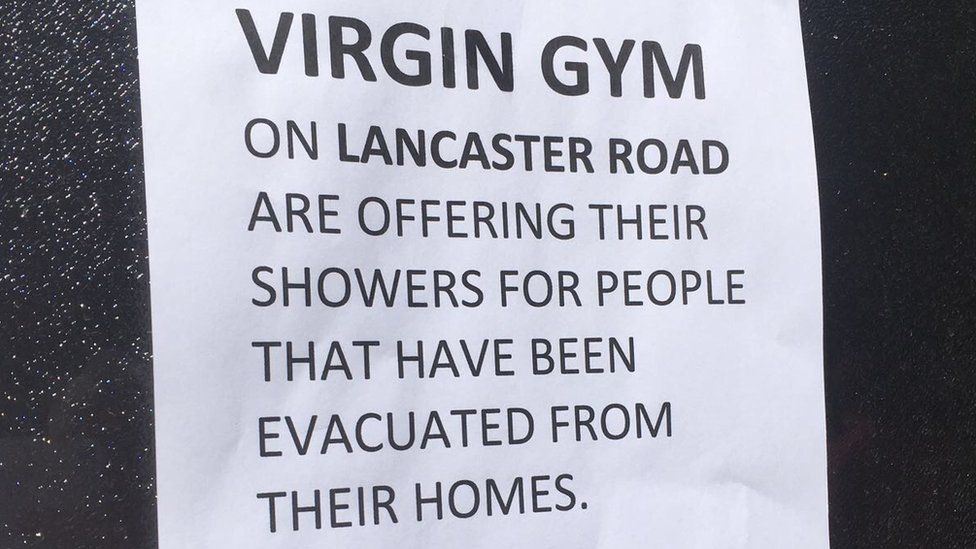 Concerned family and friends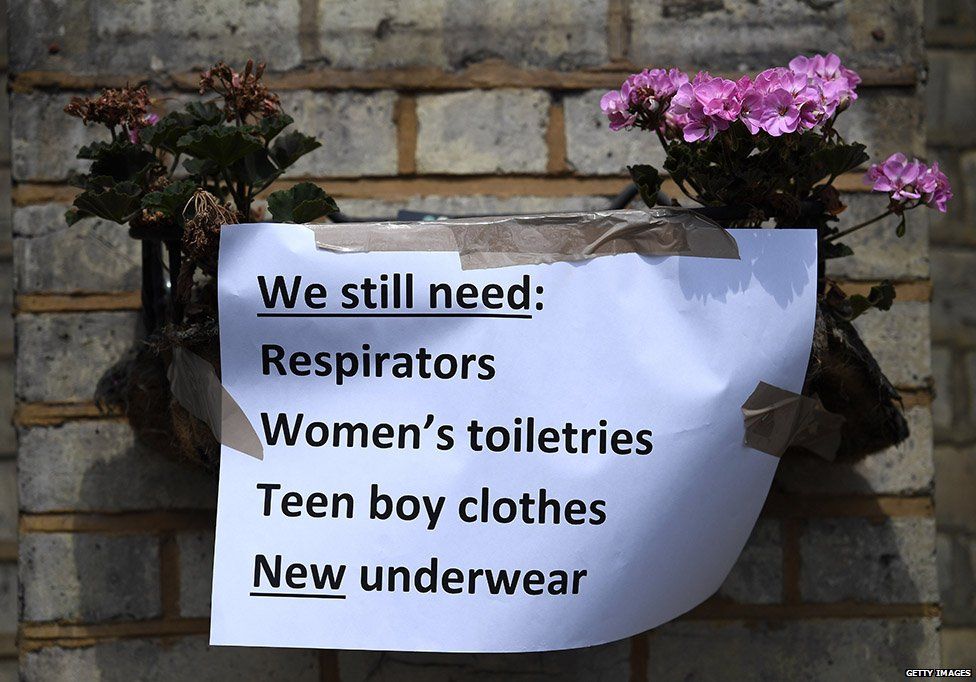 Anyone worried for loved ones in the blaze can contact the Met Police casualty bureau on 0800 0961 233.
Find us on Instagram at BBCNewsbeat and follow us on Snapchat, search for bbc_newsbeat