Election 2017: What you said in The Final Debate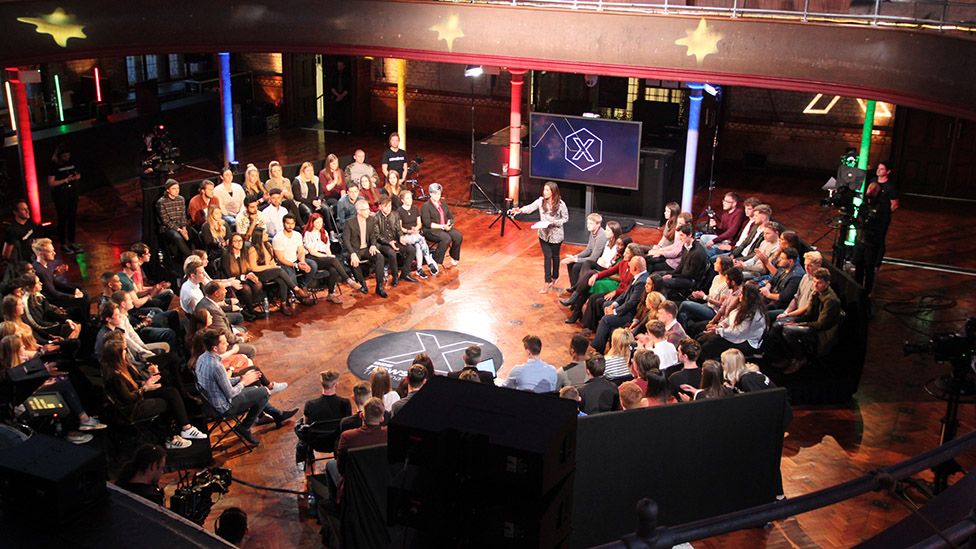 Housing, jobs, mental health and tackling terrorism were the big themes at Newsbeat's election debate in Manchester on Tuesday.
An audience of 18 to 25-year-olds put questions to seven politicians from the main parties.
It was the last debate before voting takes place in the general election on Thursday.
Prime Minister Theresa May surprised everyone by calling it just six weeks ago.
She did so saying "strong and stable leadership" was needed, with Britain beginning the process of withdrawal from the European Union.
But other topics, not Brexit, dominated the 90-minute debate hosted by Newsbeat's Tina Daheley.
The fight against terrorism
"If you know someone is about to be radicalised, how do you tackle that?" asked Nadhim Zahawi, representing the Conservatives.
"That's what we will look at after Thursday if we win the election."
He added that Theresa May wants to "work with online platforms" while also ensuring "your information is secure".
"What we need to be doing is from the youngest age teach people about tolerance," Labour's Sarah Champion said.
David Kurten, for UKIP, also brought up the issue of police cuts, a big issue since the Manchester and London Bridge attacks.
"We need 20,000 more officers for community policing following cuts," he said.
The SNP's Kate Forbes said: "We believe law enforcement needs enough resources at every stage, not cuts." She said the SNP had "increased the number of police on the beat".
"After the [recent] atrocities, while we were grateful for the offer of armed forces, we had enough police."
On rent and housing
Housing was a major talking point with audience members asking the panel what they will do to help young families and make renting fairer.
Conservative Nadhim Zahawi said: "We pledged to build a million homes by 2020, I think we'll hit that target. We've pledged in the manifesto to build another half a million by 2022."
"It's about making sure you have landlords who are honourable," said Labour's Sarah Champion.
"We will ensure rent increases are capped to inflation" and that "landlords will have to provide a safe home".
"We want to think big so everyone can have a secure home," she added.
Jonathan Bartley, for the Greens, said that "house prices are being driven up by foreign investors" and that, in reality, there are "more bedrooms per head of population than at any time in our history".
On the NHS and mental health
The scrapping of nursing bursaries was a major talking point.
"It is a ridiculous thing to do," said Lib Dem Brian Paddick about nurses' bursaries being stopped. "We would reinstate it."
On mental health he added "for me it's personal" as he explained he had experience of clinical depression.
UKIP's David Kurten says his party is the "best on the NHS" saying in government it would bring back nurses' bursaries.
He said the NHS "won't be privatised by UKIP."
Labour's Sarah Champion said: "The top 5% earners in this country will pay more" to keep the NHS afloat.
"But you need a strong economy to have a strong NHS," Nadhim Zahawi, Conservative, hit back.
On jobs and contracts
"It's not just about employment it's about what they're paid - the real living wage - so it's over £10 by the next parliament," says Kate Forbes of the SNP.
Conservative Nadhim Zahawi talked about apprenticeships.
"When you look at countries like Germany, businesses are embedded in the education system.
"On zero-hours contracts, what we did was change the legislation so it's equal. We introduced the idea of the employee being able to have several contracts.
"We introduced that in the coalition!" interjected Brian Paddick.
"Sometimes people prefer that flexibility," said Nadhim Zahawi.
"Taking a minimum wage and re-naming it the living wage" doesn't count, said Brian Paddick.
Nadhim Zahawi spoke for the Conservatives, Sarah Champion for Labour and Brian Paddick for the Liberal Democrats.
Kate Forbes represented the SNP, Jonathan Bartley the Greens, David Kurten was there for UKIP and Fflur Elin for Plaid Cymru.
Find us on Instagram at BBCNewsbeat and follow us on Snapchat, search for bbc_newsbeat