Rihanna responds to body-shaming article with a Gucci Mane meme on Instagram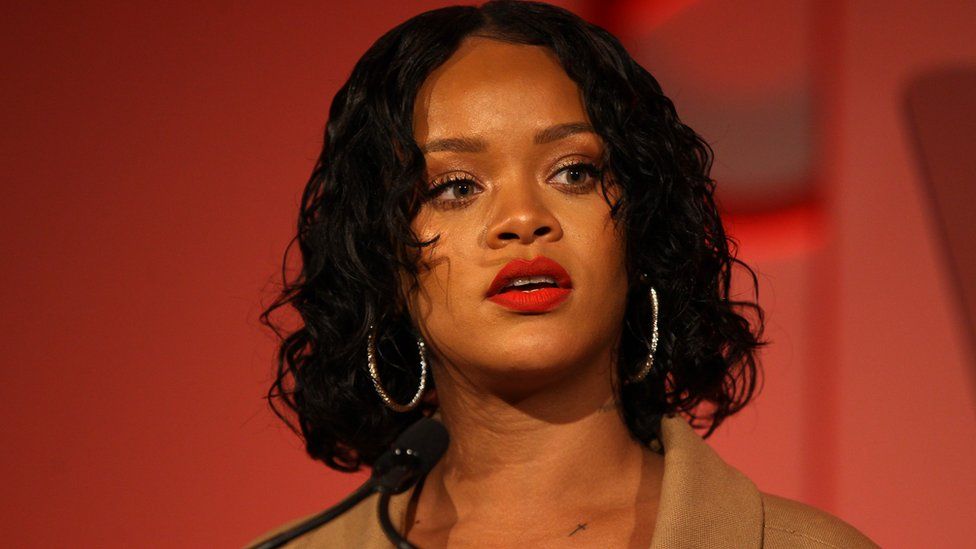 Rihanna has responded to a blogger who body-shamed her in true Rihanna fashion.
She posted a meme of Gucci Mane, showing his weight loss since 2007.
The original article, which appeared on sports website Barstool Sports, said she looked like "she's in a sumo suit".
Rihanna's fans also came to her defence, with the writer of the article claiming he is now being "cyber-bullied".
Up until now, Rihanna had not responded to the article or the tweet, both of which have been taken down.
But fans think her most recent Instagram post is finally her "clapping back".
The meme is two topless photos of rapper Gucci Mane, captioned with: "If you can't handle me at my 2007 Gucci Mane, you don't deserve me at my 2017 Gucci Mane."
This comes after the writer of the post, Chris 'Spags' Spagnuolo, claimed he was being "cyber-bullied" by her fans.
He posted some of tweets which had been sent to him in response of the article.
The founder of Barstool Sports, Dave Portnoy, issued an apology after making the decision to pull the blog from the site.
In it he said: "To be honest I don't think the blog was as bad as many are making it out to be.
"[Spags] should not be writing blogs that we as a company end up having to defend.
"And I've been doing this long enough to know that somewhere down the line this blog will be dug up again and used as an example of our extreme sexism.
"Frankly that's not a hill I'm willing to die on.
"Just like how the risk wasn't worth the reward in writing this, the risk isn't worth the reward defending it either."
Find us on Instagram at BBCNewsbeat and follow us on Snapchat, search for bbc_newsbeat