Drag queens praise Katy Perry after Saturday Night Live rumours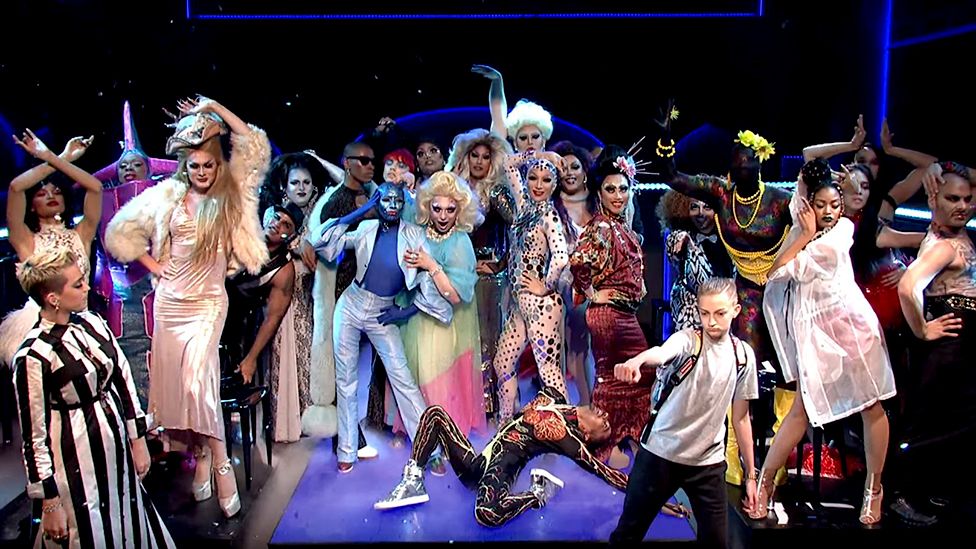 Drags queens who appeared with Katy Perry on Saturday Night Live have hit back at rumours they were denied the chance to perform alongside Migos.
Katy performed her new single Swish Swish on SNL with a collection of drag queens and club kids.
She also did a live version of her song Bon Appetit with rappers Migos.
Following the broadcast, reports suggested Migos were unhappy working with drag queens, who have since said there's "no drama" between the groups.
The claims suggest that the drag queens were told by crew members that Migos did not want to work with them and they were no longer welcome to perform.
Migos have been accused of homophobia before but the band said at the time they had "no problem" with people's sexual preferences.
A short statement, attributed to an SNL employee, claimed Migos "weren't comfortable" with their co-stars on the show, was shared online.
Violet Chachki, winner of season seven of RuPaul's Drag Race, was one of many people who shared the statement on Twitter.
But some of the drag queens involved in the performance have shared their side of the story, saying these reports are false.
Warning: Third party content, may contains ads
"There is no drama with Migos," drag queen Brita Filta wrote on Facebook.
Brita had appeared in both the Swish Swish and Bon Appetit performances, joining Katy and Migos at the dinner table set.
"I was the only drag queen in the number. I don't know why this is a thing."
Warning: Third party content, may contains ads
Scarlet Envy, who said she wouldn't comment on interaction with Migos, praised Katy Perry for giving LGBTQ+ performers an opportunity to appear on primetime US television.
"People are quick to note her benefits from the queer community at large, but the mutual benefit isn't as recognized," she wrote on Facebook.
"It's true that she insisted on stepping down to the side in order to feature as many of us as she could.
"It's also true that she and her team treated us with respect."
Other performers said they were surprised at the reports after a positive experience performing with Katy.
"There is some stuff swirling around the interwebs and honestly how dare anyone try to overshadow this incredible moment with some drama," said Alotta McGriddles.
"She hired people of colour, people of the GLBTQ community and people who are are a part of NYC nightlife to represent themselves."
Newsbeat has contacted representatives for Migos, as well as Katy Perry's label, for a statement on the rumours, but they have yet to respond.
Find us on Instagram at BBCNewsbeat and follow us on Snapchat, search for bbc_newsbeat