This girls' football team just topped a league for boys in Spain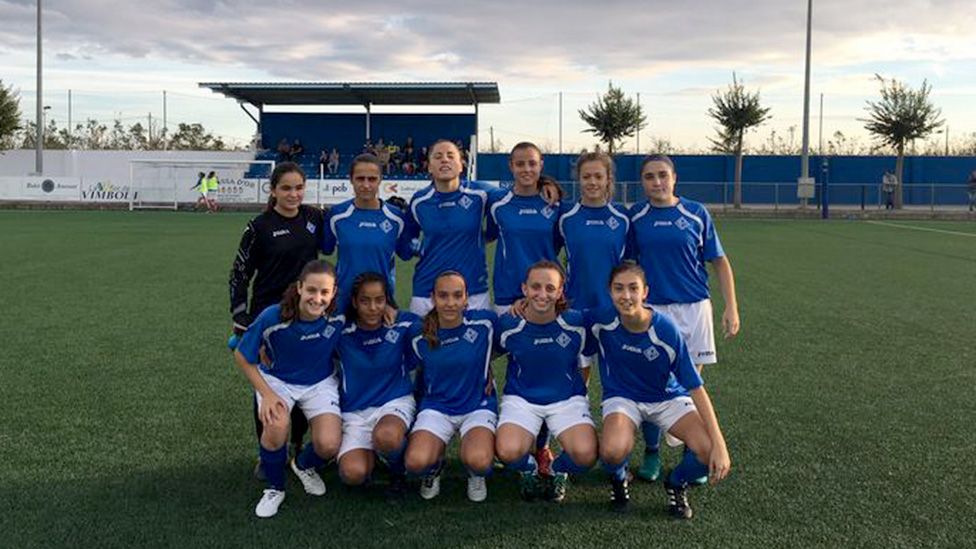 A girls' football team in Spain has come top of a boys' league, despite a lack of support for female players in the country.
AEM Lleida girls' team's story has been told in The New York Times, who visited the team after their victory in the Lleida junior regional league.
They won the Men's Second League, winning all but one of their 22 games.
Mixed-sex football is allowed in Spain until players are 14 and these girls have played against boys since 2014
However, there was no sponsorship for any female team until last year and Real Madrid (the most successful team in the country) have no women's team.
"To push these girls, we felt they had to play against boys because you need strong opponents to make real progress," Jose Maria Salmeron, the director of AEM Lleida told the New York Times.
He also said the girls have struggled with abuse from the sidelines during matches against male rivals.
"It's really been more a problem for parents rather than their boys," he adds.
"It's strange, but most of the macho comments and insults have come from the mothers of some of the boys we play."
They have also been referred to as 'the princesses' by referees during their matches.
Since their success in Lleida's junior league, the team has started a Go Fund Me campaign and are hoping to raise €10,000 (£8,437) to help pay for their training.
"I always try to show that soccer isn't just for boys," a player named Andrea Gomez tells the New York Times.
"If you're technically better, you can compensate for being perhaps physically weaker."
And even the boys they beat to come top of the league were forced to admit that they had been easily outplayed.
"It's hard to lose against girls," said a player on the team the girls beat to win the trophy in the Men's Second League
"But these ones really are very good."
Find us on Instagram at BBCNewsbeat and follow us on Snapchat, search for bbc_newsbeat