What you need to know about Xanax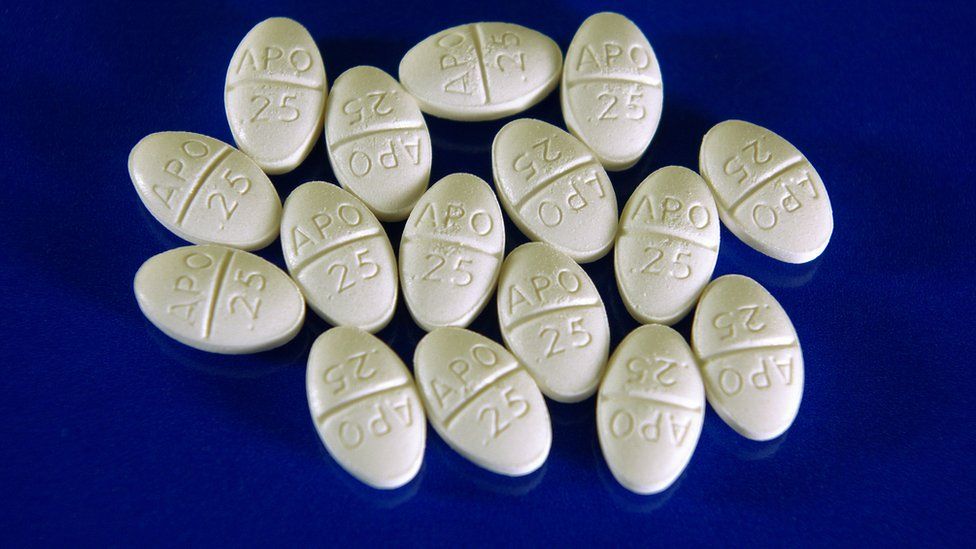 These pills are Xanax, a drug widely prescribed in the US to treat anxiety.
It's not readily available in the UK but people are getting hold of it through private prescriptions and the internet.
Around 20 teenagers in Wiltshire needed medical treatment after taking it, apparently for recreation, last week.
This page will tell you what Xanax actually is, why it's being used socially and what the serious risks are to your health.
Xanax is a tranquiliser
Tranquilisers are designed to calm or relieve tension in users. Xanax is a benzodiazepine tranquiliser, the most potentially addictive type.
"It has medical uses for the treatment of anxiety and panic attacks, that kind of thing," says Harry Shapiro, the director of DrugWise.
The name Xanax is a brand name for the drug, which is actually called alprazolam.
It is part of the benzodiazepine group of prescription drugs, which also includes diazepam and lorazepam.
The quantities we're hearing are being used are such that you can't be just reselling stuff
Insp Peter Sparrow, Wiltshire Police
Xanax isn't available on the NHS, and can only be obtained on a private prescription in the UK.
However, Inspector Peter Sparrow from Wiltshire Police doesn't think this is how people are getting their supply.
He said: "The quantities we're hearing are being used are such that you can't be just reselling stuff that's been prescribed to mum or dad, so this is only going to be sourced through the internet.
"You would have to go through the dark web, which obviously raises further concerns, because you don't actually know what it is they're buying."
'Xanned out every day'
Last year Chance the Rapper spoke to GQ about his previous addiction to Xanax.
He said: "I was Xanned out every day - I was a Xan-zombie not doing anything productive
"So think about, like, how could you even do that?"
It's no secret lots of rappers have featured prescription drugs in their lyrics.
"Pineapple Fanta, it mixed with the Xanax, she loving the codeine," goes the French Montana track released in late 2015.
This is a reference to the common drug-cocktail "Lean", the cause of the death of Asap Mob member Asap Yams in January 2015.
Harry Shapiro says: "I think there's an element of this going viral.
"There's always been these kinds of drug fashions that have come and gone."
Know the risks
"We're clearly looking for the intelligence side of this to investigate where the sources of this are coming from, and to try and deal with the dealers," says Insp Peter Swallow.
"We are [also] going through education and public health awareness.
"We're asking parents to talk to their children, to make sure they understand the risks.
"This isn't a game - this is something that can kill."
You can get more support and advice on tranquilisers via this BBC Advice page.
Find us on Instagram at BBCNewsbeat and follow us on Snapchat, search for bbc_newsbeat